It is a sign of the times. Call it a tale of two stocks after earnings.
Both Apple (AAPL) and Netflix (NFLX) reported earnings after the close.  It is said that a picture is worth 1,000 words.  The chart tells the story better than any words can describe.  There is a mind boggling  43% differential in the performance of the two stocks after hours.  Just imagine if you were short Apple and long Netflix going into earnings, you would have realized a 43% gain in 90 minutes.  Of course I was not clairvoyant enough to capture the trade.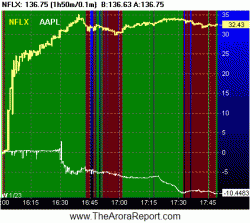 I came into the earnings long Apple and with the intent to buy Netflix.
Netflix earnings are a thing of beauty.  They came at $0.13 vs. the consensus call for a loss of $0.13; this is a beat of $0.26.  Revenues came at $945 million compared to consensus of $934 million.
Netflix added 2.1 million new streaming customers in the U. S. for a total of 27.2 million.  This is better than expectations.  Surprisingly, the company has managed to hold on to its DVD subscribers.
In my analysis, Apple's earnings and conference call is better than our expectations and it is certainly better than most bearish expectations. Earlier I wrote that the most important number to watch was iPhone sales.  Apple beat the whisper number with 47.8 million iPhones sold.   However, Apple stock is in weak hands.  Some investors are feeling a letdown after good earnings from Google (GOOG) yesterday.  This is why it is important to analyze tick trade data in addition to fundamentals…Read more at Forbes
FREE: SUBSCRIBE TO 'GENERATE WEALTH' NEWSLETTER