The stock market has been overbought for a while, and overbought markets can be vulnerable. Usually there is an excuse in the form of bad news that runs the overbought market down to alleviate the overbought condition.
Monday was no exception. The bad news was that in Italy, Berlusconi garnered more votes than expected. He is seen as a threat to the austerity implemented by Mario Monti. In somewhat of a response to the news, the DJIA fell 216 points.
In the process of falling, the stock market traced a dangerous technical pattern known as an "outside day," which you can see on the chart linked to below.
Please click for the daily chart.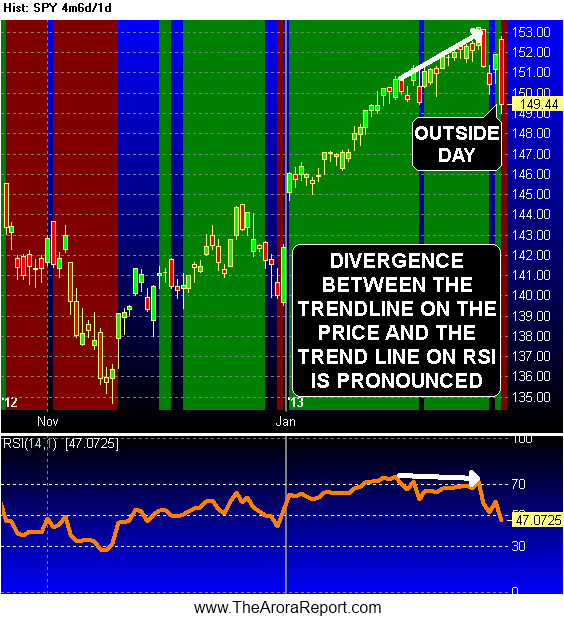 As you can see, the candlestick for Monday is marked as an "outside day," which is when the high of the day is higher than the previous day and low of the day is lower than the previous day's low.
Outside days are common and by themselves not dangerous. However, when an outside day occurs after a sustained bull run in an overbought market at a time of high bullish sentiment and the close is near the low of the day, it warrants caution.
There is confirmation here in the form of a divergence between the price action and RSI as shown on the chart; while the trendline on the prices was sloping upward, the trendline on the RSI was sloping gently downward. There is further confirmation from the weekly chart…Read more at MarketWatch
FREE: SUBSCRIBE TO 'GENERATE WEALTH' NEWSLETTER