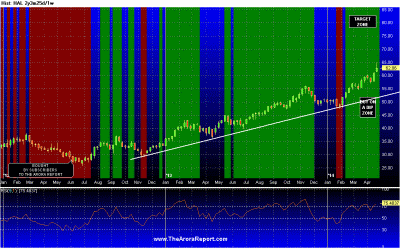 There is a saying on Wall Street, "Sell in May and go away." Most investors are better off by not selling in May and not going away, and I have three potential plays for them to make.
First, let's take a look at the believers in this saying. They produce all kinds of statistics, which can be manipulated to slant whatever result one wants. There is some truth to this saying, but nowhere near as much as some believe.
In some years, investors start the year out very bullish. The exuberance leads to an overbought market by the time May arrives. An overbought market tends to correct itself by backing and filling, a process that sometimes lasts until October. Then in November, the market is sometimes oversold, and it begins to rally to relieve the oversold condition.
A good example is 2013, when the market kept going up, and it would have been a big mistake to sell in May and go away.
The problem with sell in May and go away is that anyone worth his or her salt knows about this phenomenon. All investors seek an edge. Some investors sell in April in anticipation of May. Others buy prematurely. The point is that investors try to game this phenomenon. It is worth remembering that any phenomenon that is known well does not work well when it comes to generating profits. The only exception is the January Effect because it is driven by taxes.
A better strategy is to buy low and sell high. The period between May and October is the best period of the year to take positions in good stocks on dips.
It is important to keep a list of good stocks to buy on dips diversified among different sectors. Here are three stocks for investors to consider: a technology stock, a retail stock and an energy stock.
RF Micro Devices
RF Micro Devices RFMD  is a major supplier of radio-frequency components. Read more at MarketWatch
FREE: SUBSCRIBE TO 'GENERATE WEALTH' NEWSLETTER