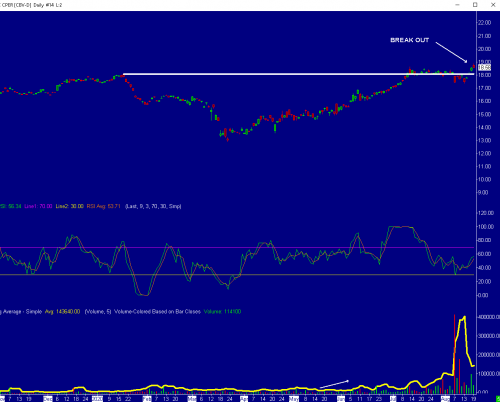 This post was just published on ZYX Buy Change Alert and ZYX Global Multi Asset Allocation Alert.
Dr. Copper
Please click here for a chart of copper ETF CPER.
Note the following:
The chart shows that copper is breaking out.
The chart shows that copper prices have been able to hang for a period of time above where they were at the February stock market high.
There is a good reason why copper is called Dr. Copper.  Copper has a reputation of giving good signals for the economy.  Copper is widely used from building homes to electronics to power transmission.  Demand for copper is a leading indicator.
As a note of caution, copper is a global commodity.  Its moves are based on what is going on across the globe and not just in the United States.  China is an important factor in demand for copper.
You already know that the stock market has risen because of the five big tech stocks and the momo crowd. It is important to look beyond the momo crowd and big tech stocks. Investors may want to consider keeping an eye on copper.
Jobless Claims
Initial Jobless Claims came at 1.106M vs. 990K consensus.  This is a leading indicator and bearish for the economy. Of course the momo crowd would argue that more people being laid off is good for the stock market because it means more borrowing and more money printing.  This ugly number may be an incentive for Democrats and Republicans to come together to borrow more for the next stimulus package.  Lets hope that the next stimulus package is exclusively directed at those who truly need help.  The past programs from the government and the Fed have provided some help to those who need it but for the most part have made the rich richer and not provided enough help for those who need it.
Consider Following What To Do Now And Protection Bands
This valuable information that all prudent investors should consider is updated daily and available when you subscribe to ZYX Buy Change Alert or ZYX Global Multi Asset Allocation Alert.
A knowledgeable investor would have turned $100,000 into over $1,000,000 with the help from The Arora Report. NOW YOU TOO CAN ALSO SPECTACULARLY SUCCEED AT MEETING YOUR GOALS WITH THE HELP OF THE ARORA REPORT. You are receiving less than 2% of the content from our paid services. …TO RECEIVE REMAINING 98% INCLUDING MANY ATTRACTIVE INVESTMENT OPPORTUNITIES, TAKE A FREE TRIAL TO PAID SERVICES.
Please click here to take advantage of a FREE  30 day trial.
Check out our enviable performance in both bull and bear markets.
FREE: SUBSCRIBE TO 'GENERATE WEALTH' NEWSLETTER