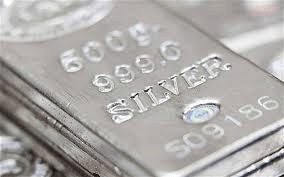 This post was just published on ZYX Buy Change Alert.
Leveraged inverse silver ETF (DSLV) is a tripled leveraged inverse silver ETF.  It goes up when silver goes down. Since DSLV is a triple leveraged ETF, the position size should be one-third of the normal position size.  The buy zone is $12.40 to $13.76.  It is trading at $13.57 as of this writing in the premarket.  A triple leveraged ETF always presents high risk, there is additional risk here because the ETF is opening gap up from yesterday's close of $13.10.  The second risk is yesterday silver was approaching a resistance zone of $20 to $20.30 but did not go any higher than $19.75.  The inverse ETF trade would have been much better if silver was in the resistance zone.  As of this writing silver is at $19.31.  Yesterday our algorithms gave a preliminary signal but it was prudent to wait until silver hit the resistance zone.  This morning silver is falling because China and the U. S. are starting talks.  This news came out last night.  There was no way to predict the exact timing of this news.
The first target zone is $14.88 to $16.33.  The second target zone is $17.34 to $19.23. The stop zone is $11 to $11.88.
The maximum  recommended position size is 15% of full core position size.
This is a short term trade and not an investment.
Caution: this trade is suitable only for super aggressive investors.  A better way is to short sell silver for those who can.
A knowledgeable investor would have turned $100,000 into over $1,000,000 with the help from The Arora Report. NOW YOU TOO CAN ALSO SPECTACULARLY SUCCEED AT MEETING YOUR GOALS WITH THE HELP OF THE ARORA REPORT. You are receiving less than 2% of the content from our paid services. …TO RECEIVE REMAINING 98% INCLUDING MANY ATTRACTIVE INVESTMENT OPPORTUNITIES, TAKE A FREE TRIAL TO PAID SERVICES.
Please click here to take advantage of a FREE  30 day trial.
Check out our enviable performance in both bull and bear markets.
FREE: SUBSCRIBE TO 'GENERATE WEALTH' NEWSLETTER