This post was just published on ZYX Buy Change Alert.
 Apple (AAPL) is putting more emphasis on face recognition, 3D sensing and virtual reality.  All of these need optical components.  Apple is investing in Finisar Corporation (FNSR) through its Advanced Manufacturing Funds.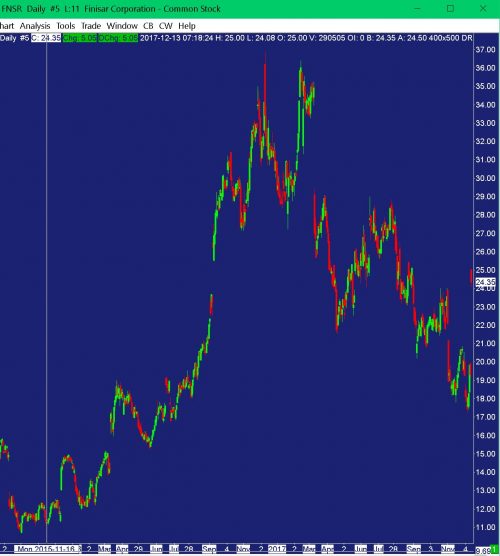 The FNSR stock is gapping up on the news.  It is trading at $23.38 as of this writing.  The gap up creates an issue because according to the Quantitative Screen of the ZYX Change Method, fair value of the stock even after the Apple investment is about $25.  However this market is controlled by the momo  crowd.  The momo crowd does not care about valuations. Take a look at the chart, it shows that if the stock catches the momo crowds' fancy there is a lot of room to run.
For the foregoing reason, the best way is to scale in within a wide buy zone.  The buy zone is $21 to $23.85. The stop zone is $18 to $18.43.  Maximum position size is up to 40% of the full core position size.
Aggressive investors may want to consider starting a scale in right here.
Conservative investors may want to scale in only on a pull back below $22.31.
We are likely to tighten the stops as the trade progresses and provide target zones after more trading data becomes available
You are receiving less than 2% of the content from our paid services …TO RECEIVE REMAINING 98%, TAKE A FREE TRIAL TO PAID SERVICES.
Please click here to take advantage of a FREE  30 day trial.
Check out our enviable performance in both bull and bear markets.
FREE: SUBSCRIBE TO 'GENERATE WEALTH' NEWSLETTER