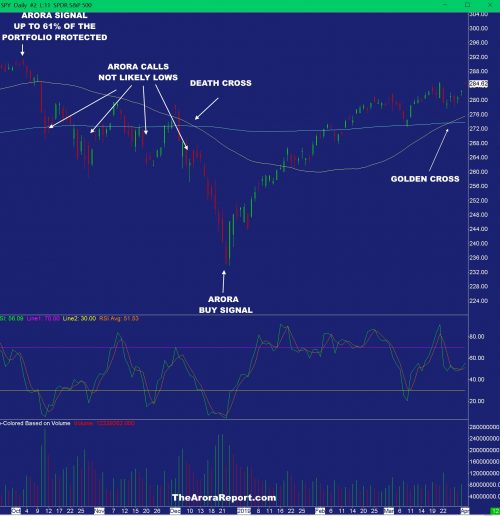 Earnings season is ahead. So this is a good time to review your stance on the U.S. stock market.
Let us explore the issue with the help of a chart.
Chart
Please click here for an annotated chart of S&P 500 ETF SPY.  For the sake of transparency, this is the same chart, without any changes, that was previously published. Investors may also want to observe similar behavior on the charts of the Dow Jones Industrial Average DJIA, Nasdaq 100 ETF QQQ and small-cap ETF IWM. Not all of them produce a golden cross or a death cross at the same time. Please note the following:
• The chart shows a golden cross. A golden cross occurs when the 50-day moving average breaks above the 200-day moving average.
• A golden cross is a bullish pattern.
• Since the chart was published, the market has risen, as was foreshadowed by the golden cross.
• The chart shows the Arora buy signal given on Christmas Eve. In hindsight, the Arora buy signal was given at the exact low of the present cycle. Since the Arora buy signal, the stock market has jumped about 23%.
• The stock market has staged a strong rally ahead of earnings season.
• Earnings are the single best determinate of future stock prices.
• The stock market has rallied in the face of slowing earnings growth because of a complete reversal in the Federal Reserve's policy.
• When interest rates fall, as has happened, each dollar of earnings is worth more for the stock market.
• Progress in China trade talks has helped, but in our opinion, the Fed's policy has been the main driver of this rally.
• Technical patterns of popular stocks such as AMD AMD,  Amazon AMZN, Facebook FB and Apple AAPL are such that they indicate the market is likely to rise. However, no one should exclusively rely on technical patterns, as they do not always work..Read more at MarketWatch.
A knowledgeable investor would have turned $100,000 into over $1,000,000 with the help from The Arora Report. NOW YOU TOO CAN ALSO SPECTACULARLY SUCCEED AT MEETING YOUR GOALS WITH THE HELP OF THE ARORA REPORT. You are receiving less than 2% of the content from our paid services. …TO RECEIVE REMAINING 98% INCLUDING MANY ATTRACTIVE INVESTMENT OPPORTUNITIES, TAKE A FREE TRIAL TO PAID SERVICES.
Please click here to take advantage of a FREE  30 day trial.
Check out our enviable performance in both bull and bear markets.
FREE: SUBSCRIBE TO 'GENERATE WEALTH' NEWSLETTER