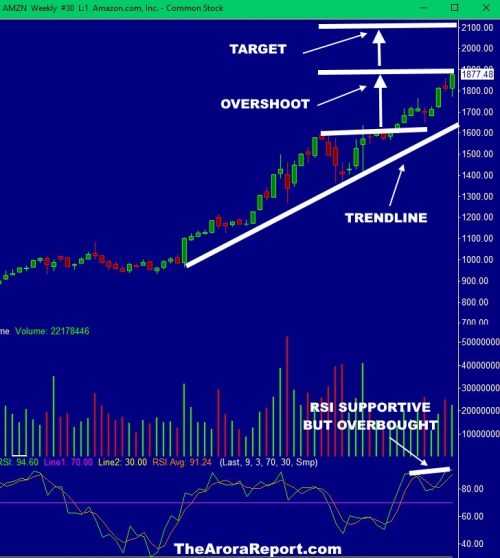 In my 30-plus years in the stock market, the one big mistake I have seen investors make over and over is that they think a company's stock and how the company is doing are the same thing. This is especially applicable to investors in Amazon.com stock at this time.
Shares of Amazon AMZN  rose after the company announced its second-quarter results. In part, this was a relief rally as there were some fears of Amazon disappointing the way Facebook FB  did. Please see "How low will Facebook's stock fall before it rebounds to more than $300?"
The chart
Please click here for the annotated chart of Amazon stock. Please observe the following from the chart:
• The stock price is over $250 above the trend line. Such over-performance often leads to a short-term pullback when no one is expecting a pullback.
• RSI is supportive of a further rise but is overbought. This again indicates potential for a short-term pullback in a long-term uptrend.
• A large number of investors appreciated the overshoot shown in the Facebook chart recently published. It is important for investors to understand the overshoot because it often retraces. The overshoot on Amazon is shown on the chart. A retracement of the overshoot will bring Amazon's shares to the $1,600 range.
• The chart shows the next target for Amazon to be $2,100. This is determined based on the quantitative screen of the ZYX Change Method.
• Amazon continues to outperform other popular tech stocks such as Apple AAPL, Netflix NFLX, Alphabet GOOG, GOOGL, Nvidia NVDA  and Microsoft MSFT.
Ignore the analysts
There are many intelligent analysts, and their reports are usually helpful. However, carefully review the history of analysts' reports on Amazon. You will reach a conclusion that, lately, some analysts look at Amazon's stock-price momentum and then come up with justifications shrouded in fundamentals and fancy numbers. After all, what choice do analysts have?…Read more at MarketWatch.
A knowledgeable investor would have turned $100,000 into over $1,000,000 with the help from The Arora Report. NOW YOU TOO CAN ALSO SPECTACULARLY SUCCEED AT MEETING YOUR GOALS WITH THE HELP OF THE ARORA REPORT. You are receiving less than 2% of the content from our paid services. …TO RECEIVE REMAINING 98% INCLUDING MANY ATTRACTIVE INVESTMENT OPPORTUNITIES, TAKE A FREE TRIAL TO PAID SERVICES.
Please click here to take advantage of a FREE  30 day trial.
Check out our enviable performance in both bull and bear markets.
FREE: SUBSCRIBE TO 'GENERATE WEALTH' NEWSLETTER