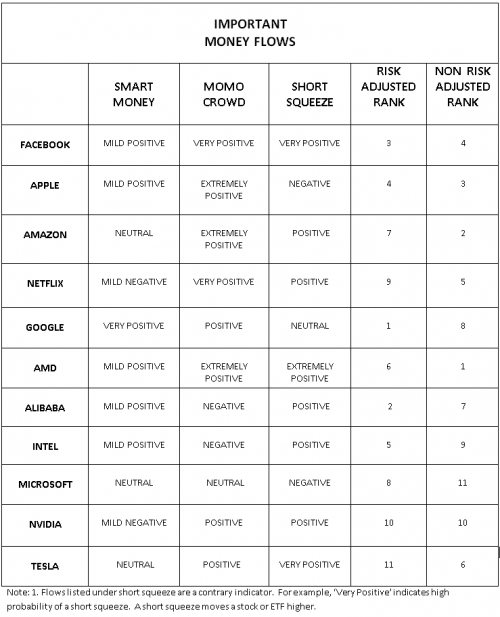 A major shift is happening in a popular U.S. technology stock.
Let us explore with the help of a chart.
Chart
Please click here for the chart showing segmented money flows, risk-adjusted rankings and non-risk-adjusted rankings of 11 popular tech stocks. Please note the following from the chart:
• For a long time Amazon AMZN  has been the king, always getting a non-risk-adjusted ranking of number one. Now the king has been overthrown. The new king is AMD AMD  AMD's stock has surged about 120% this year. Amazon's shares are up by about half that amount.
The rankings shown on the chart are based on the six screens of ZYX Change Method. The premise behind the ZYX Change Method is that most money is made with the lowest risk by successfully predicting changes before the crowd notices.
• The common element among all stocks is that money is fungible. An investor deciding to invest new money in stocks today can freely pick AMD, Amazon or any other stock. An investor looking at the non-risk-adjusted ranking would pick AMD over Amazon.
• Non-risk-adjusted rankings are useful for the short term. Risk-adjusted rankings are useful for the long term.
• In the big picture, AMD, Nvidia NVDA and Intel INTC  are in the same business. It was not that long ago that Nvidia's stock was trading in the $20 range. Now it is trading around $250. And now AMD's stock is trading in the $20 range; can it become a so-called 10-bagger? Once upon a time Intel also provided huge gains, but many investors probably don't remember because it was such a long time ago.
• AMD is undergoing a short squeeze. A total of 23.04% of the float is short. Under the short squeeze column in the chart, AMD has been rated extremely positive. Now that call is coming true. Many investors have believed that the rise in AMD stock was not justified. For this reason they sold AMD stock short, betting on a decline. In a short squeeze, short-sellers panic and buy to cover shares they previously sold short. Right now, short-sellers in AMD are in a panic, pushing the stock higher.
• Momo (momentum) crowd money flows are extremely positive in AMD. They are also extremely positive in Apple and Amazon.
• Smart money flows are only mildly positive in AMD. This is a note of caution.
• The chart shows that the short squeeze potential for Tesla TSLA is very positive.
• The short squeeze potential for Apple AAPL, Google GOOG, GOOGL and Microsoft MSFT  is negative…Read more at MarketWatch.
A knowledgeable investor would have turned $100,000 into over $1,000,000 with the help from The Arora Report. NOW YOU TOO CAN ALSO SPECTACULARLY SUCCEED AT MEETING YOUR GOALS WITH THE HELP OF THE ARORA REPORT. You are receiving less than 2% of the content from our paid services. …TO RECEIVE REMAINING 98% INCLUDING MANY ATTRACTIVE INVESTMENT OPPORTUNITIES, TAKE A FREE TRIAL TO PAID SERVICES.
Please click here to take advantage of a FREE  30 day trial.
Check out our enviable performance in both bull and bear markets.
FREE: SUBSCRIBE TO 'GENERATE WEALTH' NEWSLETTER