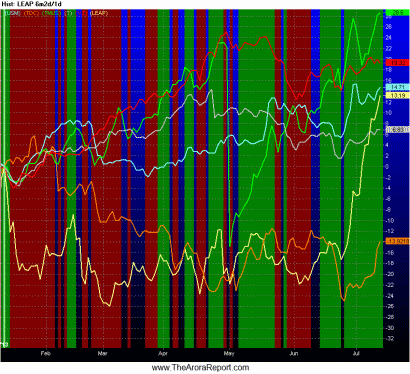 Please click here for the chart.
After the market close on Friday, AT&T kicked off the next wave of consolidation in wireless by offering to buy Leap Wireless for $1.19 billion. But will they stop there? First, let's take a look at this deal.
The chart linked below compares performance year to date of the two telecommunication stocks.
The total value of the Leap LEAP  deal is about $4 billion when assumption of debt is taken into account. AT&T T  will pay $15 per share in cash for each Leap share, this represents about an 88% premium over Leap's closing price of $7.98. Leap shareholders will also get a stub that will give them net proceeds from the sale of 700 Mhz "A Block" Chicago spectrum. Counting the value of the stub, the premium is even higher than 88%. Leap bought the spectrum for $204 million in August 2012. There are 79.04 million Leap shares outstanding; this gives investors a good idea of the value of the stub.
AT&T has dual motives behind this buyout offer. The first is the spectrum, and the second is the Cricket prepaid wireless business of Leap. AT&T plans to deploy its 4G LTE immediately upon the close of the transaction over the unused spectrum of Leap that covers 41 million consumers. Practically speaking, the transaction will probably take six to nine months to close. Of course, if there is another bidder, it will complicate the situation.
Cricket is attractive to AT&T because of its success with prepaid customers. As I have been writing, the market for post-paid customers is getting saturated. Post-paid customers have been the big adopters of high-end smartphones. (See Samsung Earnings Outlook Suggests Saturation In High End Phones.) The prepaid market is still growing. This acquisition will help AT&T boost its market share in the prepaid market quickly…Read more at MarketWatch
FREE: SUBSCRIBE TO 'GENERATE WEALTH' NEWSLETTER