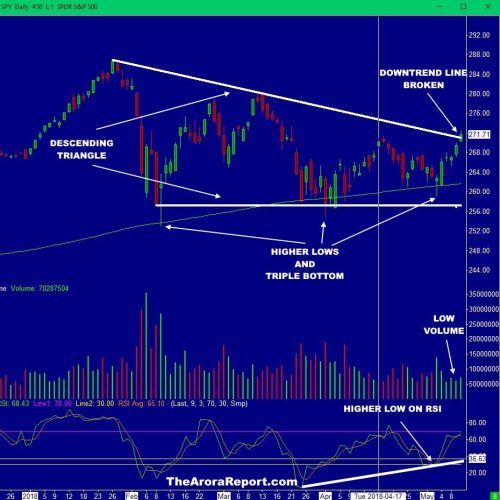 The bulls have, for now, broken the downtrend in the U.S. stock market. The Dow Jones Industrial Average on Friday could post its longest winning streak since November as the benchmark index is up over 2% this week.
Will it last? Let's explore with the help of a chart.
Please click here for an annotated chart of the S&P 500 ETF SPY.  Similar observations can be made from the charts of the Dow Jones Industrial Average DJIA,  Nasdaq 100 ETF QQQ,  and small-cap ETF IWM.
Please observe the following from the chart:
• The downtrend line has been broken. Even if the market slips below this trend line again, this break is significant.
• The chart shows the formation of a descending triangle. If the breakout becomes decisive, it is an indication of a potential significant "up" move.
• The chart shows a triple bottom. The triple bottom will offer support for any subsequent correction.
• In formation of the triple bottom, it is significant to note the pattern of higher lows. This is positive.
• The relative strength index (RSI) shows a higher low before the rally. This is positive.
• The rally is occurring on low volume. This is negative.
• The market has moved up too quickly, too far. There may be a short-term pullback.
Will it last?
Based on the traditional technical analysis, the "up" move should last.
But if traditional technical analysis always worked, good technicians would be trillionaires. Forget trillionaires — do you know any technicians who are billionaires?.  (To see specific cash levels and hedge levels, take a 30 day free subscription to ZYX Buy if interested in stocks or ZYX Global Allocation is interested in ETFs)..Read more at MarketWatch.
A knowledgeable investor would have turned $100,000 into over $1,000,000 with the help from The Arora Report. NOW YOU TOO CAN ALSO SPECTACULARLY SUCCEED AT MEETING YOUR GOALS WITH THE HELP OF THE ARORA REPORT. You are receiving less than 2% of the content from our paid services. …TO RECEIVE REMAINING 98% INCLUDING MANY ATTRACTIVE INVESTMENT OPPORTUNITIES, TAKE A FREE TRIAL TO PAID SERVICES.
Please click here to take advantage of a FREE  30 day trial.
Check out our enviable performance in both bull and bear markets.
FREE: SUBSCRIBE TO 'GENERATE WEALTH' NEWSLETTER