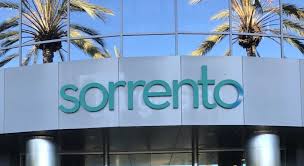 This post was just published on ZYX Buy Change Alert.
Sorrento Therapeutics (SRNE) was purchased at $4.43 on Friday. It traded as high as $10.60 in the pre-market today.  The stock has backed off to $9.02 as of this writing. All subscribers should have taken partial profit or profits on the entire position based on personal preference.  There is a controversy about the treatment from Sorrento Therapeutics.  Some claim that it is a total fake while others have very high hopes.  For this reason, those deciding to hold on to a partial quantity may consider raising the stop  to the zone of $6.38 to $7.43.  The high end of the second target zone has  been $12 but if there is a short squeeze, this stock can go to $18 to $24.  Also be aware that if there is a confirmation that the treatment is not real, the stock can be halted and may open around $4 or lower.  Your stops will not protect you in this scenario.  For this reason it is important to follow Arora's 14th Law of Investing and Trading: To be successful at investing and trading, become a master of position sizing. 
CORONAVIRUS: A NEW IDEA ON SORRENTO THERAPEUTICS ON ANTIBODY BREAKTHROUGH
Fox News is saying that  Sorrento Therapeutics (SRNE) has achieved an antibody breakthrough.  The risk in this trade is that the report has not been confirmed by other sources. This is a high risk high reward situation, for this reason it is suitable only for super aggressive  investors.  The buy zone is $3.80 to $4.67.  It is trading at $4.43 as of this writing.
The maximum recommended quantity is 20% of full core position size.  The stop zone is $2.58 to $2.88. The first target zone is $5.88 to $6.98.  The second target zone is $8.40 to $12.
Trades posted on The Arora Report Market Blog have produced unrivalled performance since 2007.  Please click here and scroll down to see the table of all trades.  These trades have been scrutinized in real-time by thousands of investors across the globe.  This provides easy verification of performance for newcomers to this site.  Only those trades are included in the performance where the entry post was made available to subscribers to The Arora Report Market Blog.  When the entry post is made available only to the paying subscribers and not posted in real-time on The Arora Report Market Blog, the resulting performance of the trade is not credited in the performance table.  There are very nice gains on this trade but since the entry trade was not posted here for the free subscribers in real-time but only made available to the paying subscribers, handsome profits on this trade will not be added to the performance of The Arora Report Market Blog shown on the table.
A knowledgeable investor would have turned $100,000 into over $1,000,000 with the help from The Arora Report. NOW YOU TOO CAN ALSO SPECTACULARLY SUCCEED AT MEETING YOUR GOALS WITH THE HELP OF THE ARORA REPORT. You are receiving less than 2% of the content from our paid services. …TO RECEIVE REMAINING 98% INCLUDING MANY ATTRACTIVE INVESTMENT OPPORTUNITIES, TAKE A FREE TRIAL TO PAID SERVICES.
Please click here to take advantage of a FREE  30 day trial.
Check out our enviable performance in both bull and bear markets.
FREE: SUBSCRIBE TO 'GENERATE WEALTH' NEWSLETTER