This post was just published on ZYX Global Multi Asset Allocation Alert.
The purpose of this post is to help subscribers understand the recommendation on SPHB.  The reason behind its selection is not its beta but its composition.
According to our models, in the fourth quarter of 2013 and the first quarter of 2014, the best performing sectors are likely to be consumer discretionary, energy,  financials, industrials, and information technology.  A dark horse is  the material sector which deserves a small allocation.  Further, according to our models the second tier stocks in these sectors are likely to outperform mega cap.
In this service we recommend only ETFs.  Finding ETFs to exactly meet our requirements is not always easy, that is the case this time based on the foregoing predictions.  Fortunately, SPHB covers about 90% of what out ideal would be if we could pick individual stocks or custom design an ETF.
The diagram shows sector distribution of this ETF.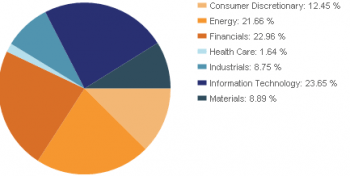 The Plan
The plan is to buy this ETF on a dip this quarter and be positioned correctly for the fourth quarter of 2013 and first quarter of 2014.  In the first quarter of 2014, this ETF has the potential to reach $31 to $32 if the stock market stays in the bull mode.
Take a look at the fund holdings.  Several of the stocks listed below are our favorite stocks going forward.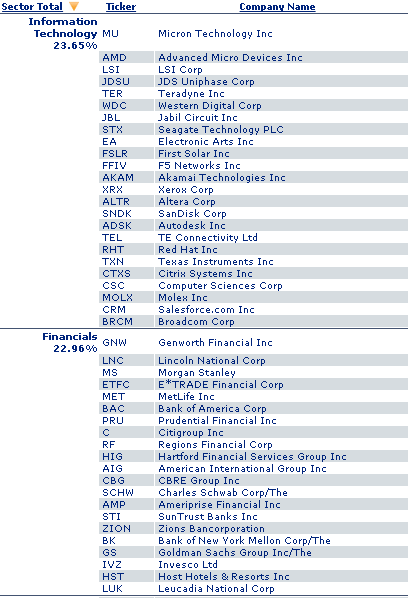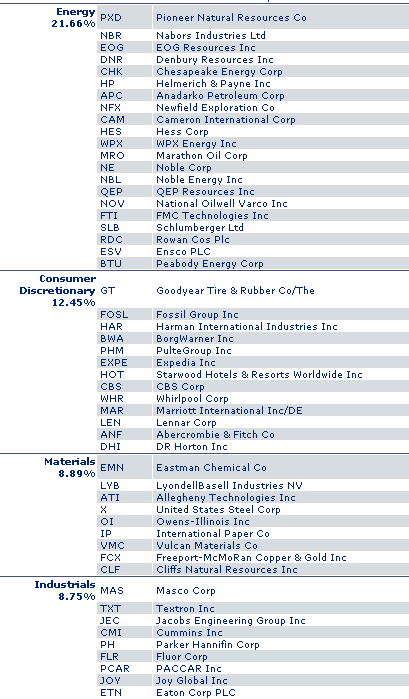 FREE: SUBSCRIBE TO 'GENERATE WEALTH' NEWSLETTER