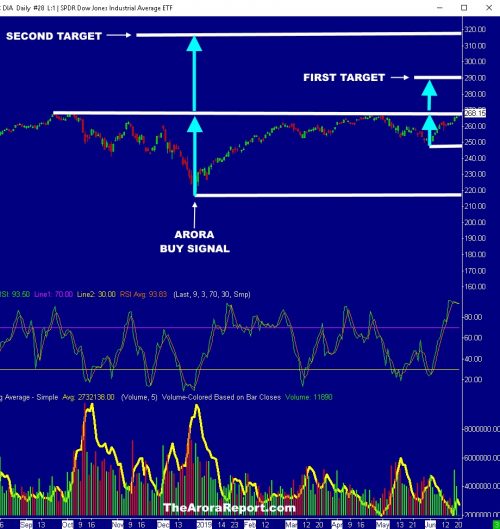 Stock market bulls are excited about the meeting between presidents Trump and Xi. Some are encouraged by the Dow Jones Industrial Average's chart pointing to 32,000 points. However, prudent investors ought to be warned about a big flaw in bulls' logic that nobody is talking about.
Let's explore with the help of a chart. Please click here for an annotated chart of the Dow Junes Industrial Average ETF DIA.  Please note the following:
• The stock market often exhibits symmetry.
• The chart shows the first stock market target of Dow 29,000.
• The chart shows the second stock market target of 32,000.
• The chart shows the Arora buy signal.
• Overall, the chart pattern is highly bullish.
Longstanding target
When the Dow Jones Industrial Average was at 16,000 points, I was among few who publicly called for the index to hit 30,000. Subsequently, I have repeated the call several times. As an example, please see "Here's the case for Dow 30,000 in Trump's first term."
Bullish scenario
Stock market bulls' bullish scenario consists of the following projections:
• Presidents Trump and Xi will either reach a deal or, at a minimum, announce a truce.
• The economy will continue to grow.
• Earnings will continue to grow.
• Large-cap technology stocks such as Apple AAPL,  Facebook FB  and Amazon AMZN,   will continue to perform well.
• The Federal Reserve will cut interest rates by at least 75 basis points in 2019.
• The Fed will cut interest rates further in 2020.
Big flaw
Let us start out with Arora's Second Law of Investing: "Nobody knows with certainty what is going to happen next." Stock market bulls are painting a picture-perfect scenario. However, there is a big flaw in this scenario. The flaw is the stock market bulls' assumption that the Fed will aggressively cut rates amid the removal of a trade-war risk, growing economy and rising company earnings. This flies in the face of common sense.
Why would the Fed embark on such a long-term disastrous course to further inflate asset bubbles including stocks, bonds and real estate? Stock market bulls have an answer: The Fed will do so to take out an insurance policy against a natural short-term economic slowdown after a 10-year expansion….Read more at MarketWatch.
A knowledgeable investor would have turned $100,000 into over $1,000,000 with the help from The Arora Report. NOW YOU TOO CAN ALSO SPECTACULARLY SUCCEED AT MEETING YOUR GOALS WITH THE HELP OF THE ARORA REPORT. You are receiving less than 2% of the content from our paid services. …TO RECEIVE REMAINING 98% INCLUDING MANY ATTRACTIVE INVESTMENT OPPORTUNITIES, TAKE A FREE TRIAL TO PAID SERVICES.
Please click here to take advantage of a FREE  30 day trial.
Check out our enviable performance in both bull and bear markets.
FREE: SUBSCRIBE TO 'GENERATE WEALTH' NEWSLETTER