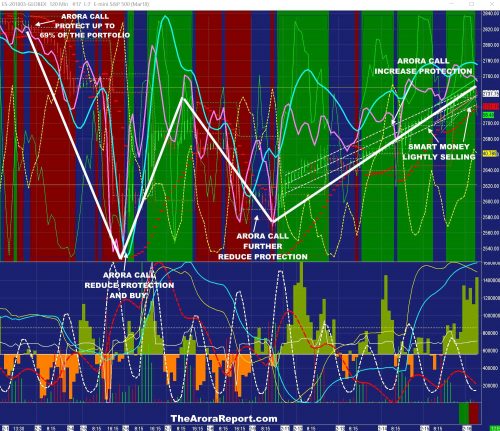 Are you concerned about volatility in the stock market? With the bull market turning nine years old this spring, you can expect more.
There is a sensible approach for these times. Every investor should consider it. To understand the approach, let us start with two charts.
Two charts
Please click here for annotated chart of the stock market when it was recently in the middle of a violent correction. The chart was published on Feb. 9 when the stock market was looking downright scary to many investors. The chart shows two scenarios. At that time, The Arora Report said: "The probability of a bullish W pattern forming is significantly higher than a bearish break." For more analysis of the chart, please see "Stock market patterns suggest bullishness will triumph over bearishness."
Please click here to see how the W bullish pattern has evolved. The chart also shows The Arora Report calls, as provided in real time to The Arora Report subscribers.
The charts are of S&P 500 futures ESH8.  Similar conclusions can be drawn from popular ETFs such as S&P 500 ETF SPY,  Nasdaq 100 ETF QQQ, and small-cap ETF IWM. It is more instructive to use a futures chart because futures trade overnight and there is a very important point on the chart that is visible only on that chart.
Ask Arora: Nigam Arora answers your questions about investing in stocks, ETFs, bonds, gold and silver, oil and currencies. Have a question? Send it to Nigam Arora.
A sensible approach
Here are some, but not all, simple ingredients of a sensible approach that every investor should consider.
• When there is risk in the markets, hold an adequate level of cash. Cash not only protects you when the market falls, it enables you to invest in new opportunities at better prices…..Read more at MarketWatch.
A knowledgeable investor would have turned $100,000 into over $1,000,000 with the help from The Arora Report. NOW YOU TOO CAN ALSO SPECTACULARLY SUCCEED AT MEETING YOUR GOALS WITH THE HELP OF THE ARORA REPORT. You are receiving less than 2% of the content from our paid services. …TO RECEIVE REMAINING 98% INCLUDING MANY ATTRACTIVE INVESTMENT OPPORTUNITIES, TAKE A FREE TRIAL TO PAID SERVICES.
Please click here to take advantage of a FREE  30 day trial.
Check out our enviable performance in both bull and bear markets.
FREE: SUBSCRIBE TO 'GENERATE WEALTH' NEWSLETTER