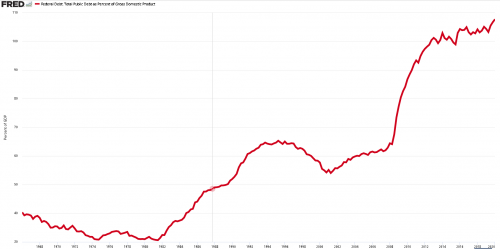 To gain an edge, this is what you need to know today.  
National Debt
Please click here for a chart of the federal debt compared to Gross Domestic Product (GDP).
The Congressional Budget Office said that the national debt is now on track to smash World War II record. This is a great reason for the momo crowd to celebrate — they believe the higher the debt the higher the stock market.
'Lies, damned lies, and statistics' applies here when counting on funded liabilities.  The debt is much greater.
Jobless Claims
The momo crowd is excited about the new jobless claims data.  They bought on the news.
Weekly Jobless Claims came at 881K vs. 915K consensus.
Vaccine
CDC says that a vaccine will be available by November 1.  Can you figure out why the vaccine availability date must be before November 3rd? This is creating additional excitement to buy stocks.
Durable Goods
🔒    To read take a free 30 day trial subscription.
Momo Crowd And Smart Money In Stocks
🔒
Gold
🔒
Oil
🔒
Markets
🔒
Protection Bands and What To Do Now?
🔒
A knowledgeable investor would have turned $100,000 into over $1,000,000 with the help from The Arora Report. NOW YOU TOO CAN ALSO SPECTACULARLY SUCCEED AT MEETING YOUR GOALS WITH THE HELP OF THE ARORA REPORT. You are receiving less than 2% of the content from our paid services. …TO RECEIVE REMAINING 98% INCLUDING MANY ATTRACTIVE INVESTMENT OPPORTUNITIES, TAKE A FREE TRIAL TO PAID SERVICES.
Please click here to take advantage of a FREE  30 day trial.
Check out our enviable performance in both bull and bear markets.
FREE: SUBSCRIBE TO 'GENERATE WEALTH' NEWSLETTER