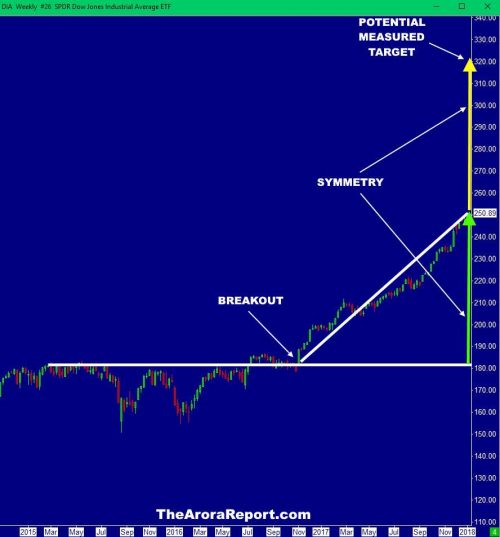 Stock bulls might want to be on alert if new allegations against President Trump turn out to be true.
Special Counsel Robert Mueller already is investigating Russian collusion, which is a big overhang over the Trump administration.
And, now, Michael Wolff's new book (released Jan. 5), "Fire and Fury," makes several allegations against Trump. It has become a best-seller on Amazon AMZN.  As my longtime readers know, I am politically agnostic. I see my sole job as helping investors.
There is one new set of allegations that could cause a lot of damage to the stock market. Before delving into them — and offering an alternative investment to U.S. stocks — let's look at a chart to fully understand what such allegations could do to the market.
Chart
Please click here for an annotated chart of the Dow Jones Industrial Average ETF DIA,   which tracks the Dow Jones Industrial Average DJIA.  Similar conclusions can be drawn from the SPY,  ETF, which represents the S&P 500 SPX, the QQQ,  ETF, which represents the Nasdaq 100 NDX,   and the IWM,   ETF, which represents the Russell 2000 RUT.  Please note the following from the chart:
• In technical analysis when a major resistance is broken to the upside, it becomes support.
• The breakout point shown on the chart is the major support.
• The major support is 7,000 Dow points below where the index is now.
• There are only minor supports between here and the major support shown on the chart.
• In my 30 years-plus in the markets, I have repeatedly seen that if there is a significant adverse fundamental development in the markets, the markets cut through minor support levels like a hot knife through butter.
• Often the long-term bottom is at the major support level.
Money laundering
The new allegations are that the FBI is investigating money laundering against Trump and his associates.…Read more at MarketWatch
A knowledgeable investor would have turned $100,000 into over $1,000,000 with the help from The Arora Report. NOW YOU TOO CAN ALSO SPECTACULARLY SUCCEED AT MEETING YOUR GOALS WITH THE HELP OF THE ARORA REPORT. You are receiving less than 2% of the content from our paid services. …TO RECEIVE REMAINING 98% INCLUDING MANY ATTRACTIVE INVESTMENT OPPORTUNITIES, TAKE A FREE TRIAL TO PAID SERVICES.
Please click here to take advantage of a FREE  30 day trial.
Check out our enviable performance in both bull and bear markets.
FREE: SUBSCRIBE TO 'GENERATE WEALTH' NEWSLETTER