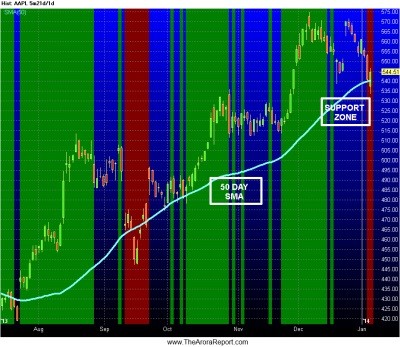 As new-year pension money pours in, the stock market is screaming higher today. The true test will be when the very short-term oversold condition is relieved. In spite of today's rally, the first three days have a major significance that investors should pay attention to.
On the first day of 2014, the stock market fell; this was the first such occurrence after six years.
On Monday, the DJIA traced an outside day. In the present context, an outside day — which is formed when the high of the day is higher than the high of the previous day and the low of the day is lower than the low of the previous day — is considered negative in traditional technical analysis.
In the statistical analysis done at The Arora Report, contrary to common belief, outside days by themselves are not very significant; however, they often foretell the future if they occur after a prolonged advance, and the high of the day occurs at or near the open and the close is at or near the close of the day. The DJIA met all of these three criteria yesterday. Take a look at the chart of SPDR Dow Jones Industrial Average ETF Trust DIA, which represents DJIA.
Please click on the annotated chart of DIA.
The market internals are now again similar to the beginning of December 2013 and September 2011. In September 2011, the market experienced about a 7% correction. In December 2013, the market reversed and moved upward.
The Nasdaq 100 has fallen three days in a row, as you can see on this chart of the PowerShares QQQ Trust Series 1 ETF QQQ, which represents Nasdaq 100…Read more at MarketWatch
FREE: SUBSCRIBE TO 'GENERATE WEALTH' NEWSLETTER