This article contains the following tickers: GLD, SLV, ZSL, GDX, GDXJ, AG, CDE, HL, SSRI, PAAS, ABX, NEM, AEM, SLW, and GG
I have a long proven track record of calling twists and turns of the gold and silver markets correctly. Some of the credit goes to the adaptive allocation models at The Arora Report , but most of the credit goes to gold and silver markets themselves. Adaptive models are the models that automatically change themselves to make correct market calls.
Gold and silver markets, unlike the stock market, often provide clear buy or sell signals to anyone who is listening. December 8,2011 was no exception.
Leading to the fateful early warning of December 8th, gold and silver were caught in chaotic volatile range bound trading. Our back testing of similar patterns in the past showed that the probability was about even of gold and silver breaking out of the range on the up side or the down side.
As has happened numerous times in the past, there it was – an unambiguous sell signal on gold. Reading the signal could not have been easier and I gave the signal to sell gold at $1757 right at the top as shown on the chart. Since then, in a matter of three days gold has fallen about $100. The sell signal was a trading signal and not a very long-term recommendation.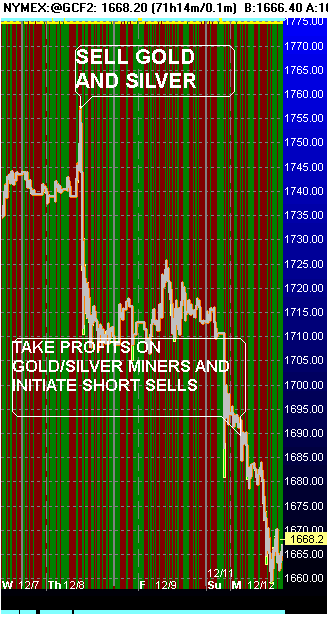 Trading gold and silver used to be straight forward until about three years ago. Gold and silver followed Economics 101. Whenever there was a geopolitical scare, investors sought shelter in gold; demand went up and prices rose. When the crisis that led to the run…Read More at MarketWatch..
FREE: SUBSCRIBE TO 'GENERATE WEALTH' NEWSLETTER