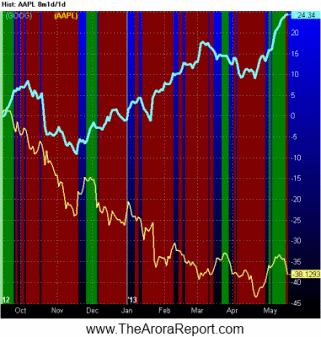 Click here for a larger chart.
When Apple AAPL  first announced iPhone 4S, there was a nice surprise in it called Siri.  Siri is a virtual intelligent voice assistant.  Siri caught the imagination of the masses.  iPhone 4S sales took off.  Analysts had to scramble to revise their iPhone 4S sales estimates upwards.  The revised estimates started another leg up in Apple stock.  Prior to iPhone 4S launch, there were serious concerns about Apple's ability to continue the pace of innovation after Steve Jobs passing.  As the enthusiasm built,Steve Jobs related discount vanished from the stock price giving the stock a further boost. Google GOOG had been hard at work at voice but Apple left Google far behind in the dust.
Soon the user realized that Siri was limited in its capabilities and did not quite live up to expectations raised by Apple.  However, both users and analysts were forgiving.  After all, Siri was marked beta and it was the start of something big.
Then came the introduction of iPhone 5.  Investors had widely expected improvements to Siri. Alas, Apple let its fans down.  The simple let down played a part in changing the perception about Apple which would eventually lead to a massive stock decline.
Apple may be hard at work to fulfill the promise of Siri but there are no visible signs at this time.
In contrast, Google has not only caught up with Siri.  Yesterday it demonstrated at its I/O conference that it is making progress to fulfill the promise of Apple Siri…Read more at Forbes
FREE: SUBSCRIBE TO 'GENERATE WEALTH' NEWSLETTER