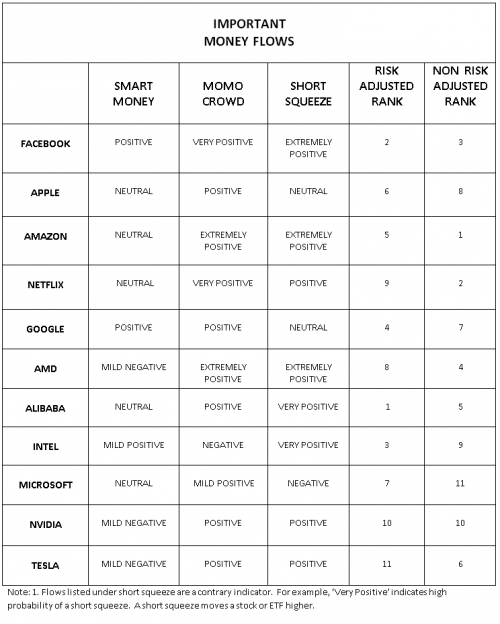 The U.S. stock market is controlled by the momo (momentum) crowd. The only thing the momo crowd cares about is … momentum. But what if you are not a sheep in the momo crowd? What if you are a prudent investor? What should you do?
One of the best tools is to look at the X-rays of popular stocks in the form of segmented money flows. Money flows provide an edge to investors who want to beat the broader market and lower their risks. Let's explore by looking at money flows with the help of a chart.
Chart
Please click here for the annotated chart of money flows in 11 popular technology stocks. As a group, these stocks have outperformed the Dow Jones Industrial Average DJIA, S&P 500 SPX, and Nasdaq 100 NDX, and the popular index ETFs such as SPY, QQQ, and IWM.  Please observe the following from the chart:
• Netflix NFLX, earnings were not stellar. The most important measure for Netflix's stock at this time is net additions in subscribers. This number came in at 5.15 million vs. 6.2 million in prior guidance. Netflix's guidance for future net additions in subscribers was also lower than the consensus. Initially, the stock fell over $50, more than 10%, on the disappointing numbers. But as the stock started bouncing from the lows, the momo crowd became aggressive buyers. The chart shows that momo-crowd money flows are very positive in Netflix. Of note is that smart-money flows (by professional investors) are neutral and did not stay negative after poor earnings.
• Momo-crowd money flow is extremely positive in Amazon AMZN.  In contrast, the smart-money flow is neutral, as shown on the chart.
• Momo-crowd money flow is only mild positive in Microsoft MSFT, even though the stock is running up and gurus are aggressively promoting it.
• Momo-crowd money flow is very positive in Facebook FB, as shown on the chart. Smart-money flow is also positive in Facebook.
• Smart-money flow is neutral in Apple AAPL, but momo-crowd money flow is positive.
• Among semiconductor stocks, momo-crowd money flows are extremely positive in AMD AMD, and positive in Nvidia NVDA; they are negative in Intel INTC.
• Momo-crowd money flows are positive in Tesla TSLA, as short-sellers are getting squeezed.
• Momo-crowd money flows are positive in Alibaba BABA, often referred to as the Amazon of China, in spite of a bear market in Chinese stocks by some measures.
• Both smart-money and momo-crowd money flows are positive in Google GOOG, GOOGL.
• There is quite a contrast between the momo-crowd flows and smart-money flows, as shown on the chart….Read more at MarketWatch.
A knowledgeable investor would have turned $100,000 into over $1,000,000 with the help from The Arora Report. NOW YOU TOO CAN ALSO SPECTACULARLY SUCCEED AT MEETING YOUR GOALS WITH THE HELP OF THE ARORA REPORT. You are receiving less than 2% of the content from our paid services. …TO RECEIVE REMAINING 98% INCLUDING MANY ATTRACTIVE INVESTMENT OPPORTUNITIES, TAKE A FREE TRIAL TO PAID SERVICES.
Please click here to take advantage of a FREE  30 day trial.
Check out our enviable performance in both bull and bear markets.
FREE: SUBSCRIBE TO 'GENERATE WEALTH' NEWSLETTER