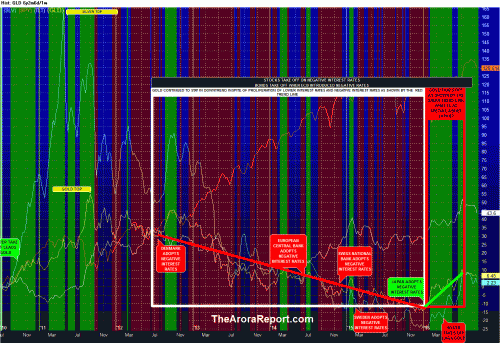 The history of negative interest rates is coming to haunt investors. There is potentially a big change ahead coming from Japan that will affect most markets worldwide. Let us start by looking at the annotated chart documenting the history.
Please click here for the annotated chart of negative interest rates.
The chart documents the history of negative interest rates relative to price action in ETFs for the S&P 500 SPY, bonds TLT, gold GLD and silver SLV.
The big change ahead
The headline of our morning report on Sept. 13 started with "Stocks And Bonds To Fall …" The Dow fell by 258 points and bonds fell by 1.14% for the day. This follows similar spot on calls documented in the column "What to do with a chart that shows no place for investors to hide."
No, I do not have a crystal ball. Part of the reason I was able to make these correct calls was my deep study of negative interest rates. The rest of the headline of the Morning Capsule read, "…On Ferocious SellOff In JGBs And Lower Oil Demand After A Bounce Yesterday On Dovish Brainard Speech." The trigger for the call was a ferocious selloff in Japanese government bonds (JGBs) overnight.
Japanese government bonds experienced their worst selloff in about 20 years. The real story here is the Bank of Japan (BOJ) is highly likely to implement maturity-range adjustment; this is the big change ahead. In plain English, this means that the Bank of Japan is looking into buying more shorter-duration bonds and less longer-duration bonds. This is causing yields to rise on longer-duration bonds…Read more at MarketWatch
You are receiving less than 2% of the content from our paid services …TO RECEIVE REMAINING 98%, TAKE A FREE TRIAL TO PAID SERVICES.
Please click here to take advantage of a FREE  30 day trial.
Check out our enviable performance in both bull and bear markets.
FREE: SUBSCRIBE TO 'GENERATE WEALTH' NEWSLETTER