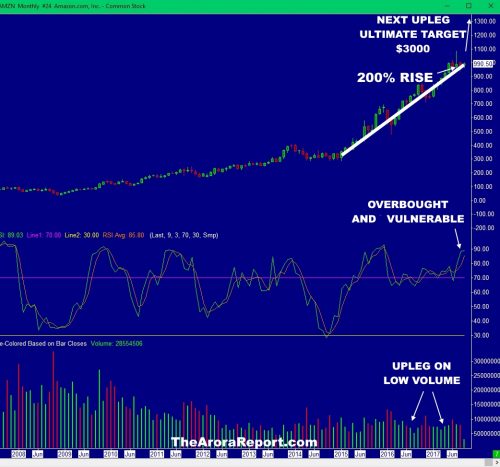 I am getting a lot of questions about Amazon's stock.
Some investors want to aggressively buy for the long term. Others want to unload and lock in gains.
Let's review the company, and then I will give you key pointers to help you invest in Amazon the right way.
Chart
Please click here for an annotated chart of Amazon AMZN stock. Note the following:
• The current leg up in Amazon has been on low volume. This is negative.
• RSI (relative strength index) shows that Amazon is overbought and vulnerable.
• The chart shows that the current leg up has made a 200% move. Market-leading stocks often trace symmetry in their charts. If such symmetry were to occur in Amazon's stock, the next major leg up has a shot at being up 200% again. This computes to a target of $3,000 for Amazon stock.
A part of the rise in Amazon stock is due to the popularity of FAANG stocks. Other FAANG stocks are Facebook FB,  Apple AAPL,  Netflix NFLX,  and Alphabet (Google) GOOG,  GOOGL.
Fundamentals of Amazon's stock
Here are the key fundamentals that deserve investors' attention:
• Amazon Web Services (AWS) has been a big source of profits for Amazon. Competition is increasing. It is only a matter of time before investors start paying attention to increasing competition..Read more at MarketWatch
You are receiving less than 2% of the content from our paid services …TO RECEIVE REMAINING 98%, TAKE A FREE TRIAL TO PAID SERVICES.
Please click here to take advantage of a FREE  30 day trial.
Check out our enviable performance in both bull and bear markets.
FREE: SUBSCRIBE TO 'GENERATE WEALTH' NEWSLETTER