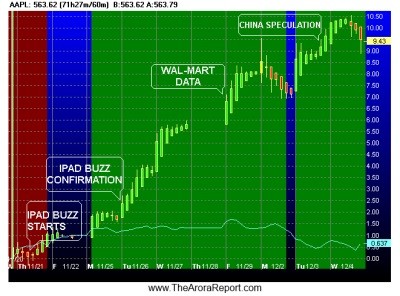 Click here for a bigger chart.
After Apple AAPL  stock had lost its momentum in recent months, it has spiked higher in the past two weeks and outperformed the S&P 500 by 8.8%.
Here are seven reasons that Apple is moving higher again.
It all started on November 21 in trading circles.  Traders make a living by tuning in to new information early and often establish positions before there is even a hint of the new information in the mainstream media.  The buzz was that the likes of Wal-Mart and Target TGT  were going to heavily promote and discount iPads for the Thanksgiving weekend.  The buzz got the stock moving.
iPad Buzz Confirmation
By November 25, there was confirmation of the early buzz.  Circulars from Wal-Mart and Target had leaked out.  There were indeed heavy promotions and discounts on iPads.  The stock started moving aggressively as word of promotions spread.
Wal-Mart And Target Data
My checks at a handful of Wal-Mart and Target stores showed that there was insatiable iPad demand.  InfoScout provided more extensive data.  The top selling item at Wal-Mart was Apple iPad Mini.  The top three selling items at Target were Apple iPad Air 16GB, Apple iPad Mini 16GB, and Apple iPad Air 32GB.  There were similar reports from other sources.
The confirmation of the early buzz led to more stock buying…Read more at Forbes
FREE: SUBSCRIBE TO 'GENERATE WEALTH' NEWSLETTER