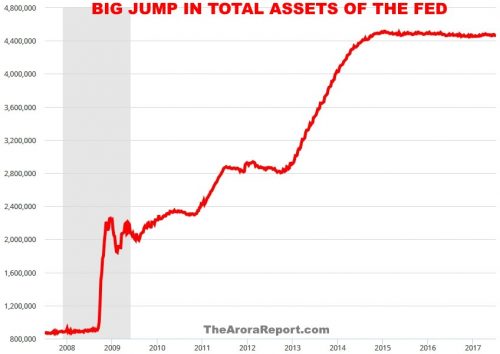 The Federal Reserve's printing presses have, in large part, been responsible for the run-up in stocks since the financial crisis. Now the presses are about to stop. Will stocks crash? Let's explore that question.
Chart
Please click here to see an instructive chart — that of the Fed's total assets. Notice how assets ballooned from under $1 trillion to $4.5 trillion. The continued excitement in the stock market shows that investors believe the Fed will execute its plan to unwind its massive balance sheet in a manner that will allow the stock market to continue its march upwards.
The Fed's balance sheet primarily consists of bonds that it bought in a program known as quantitative easing. The Fed's buying of the bonds drove interest rates to artificially low levels. Low interest rates, in turn, have artificially inflated prices of bonds, stocks and real estate.
The key question
Shouldn't stocks decline as liquidity is drained from the financial system? The simple, common-sense answer is "yes." However, markets are perverse. Investors think they are too smart for simple, common-sense answers to apply to them.
The consensus is that the Fed's great unwind will not dampen the move up in stocks.
Free lunch
History teaches us that there is no free lunch. However, investors are buying hand over fist because of the Fed, creating a free lunch. Here are the three popular reasons behind this free-lunch thinking:
• The Fed has given details of the unwind. For this reason, the unwind is already discounted in the market and should have no impact on stocks…Read more at MarketWatch
You are receiving less than 2% of the content from our paid services …TO RECEIVE REMAINING 98%, TAKE A FREE TRIAL TO PAID SERVICES.
Please click here to take advantage of a FREE  30 day trial.
Check out our enviable performance in both bull and bear markets.
FREE: SUBSCRIBE TO 'GENERATE WEALTH' NEWSLETTER