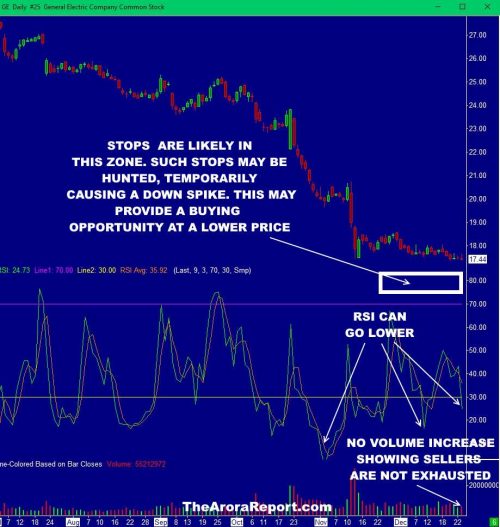 The January Effect tends to offer an opportunity to potentially make about 30% in three months — equivalent to a 120% annualized return. It is a phenomenon that makes prices of certain stocks rise more in January than the market averages.
Over the past 30 years, we have made money from the January Effect about 80% of the time, broken even about 10% of the time, and lost money about 10% of the time.
The Arora Report has published a list of 36 stocks to take advantage of January Effect stocks. The list includes a range of small stocks to well-known stocks, such as General Electric GE.
To generate 30% returns, it is critical to buy in a certain specific way. The chart illustrates how and when to buy GE, for example.
The chart
Please click here to for an annotated chart of General Electric. Please note the following from the chart.
• In a year that has seen indices such as the Dow Jones Industrial Average DJIA, S&P 500 SPX, Nasdaq 100 NDX, and Russell 1000 RUI,  rocket to new highs, blue-chip GE has lost a lot of value.
• A bottom in a stock occurs when sellers get exhausted. Seller exhaustion often shows up as heavy volume on a down day. The chart shows that this hallmark of seller exhaustion has not occurred in GE.
• The RSI (relative strength index) has been falling, but the chart shows that there is more room to fall.
• The chart shows the zone where a large number of "stops" likely exist.
• If GE stock starts approaching the potential stop zone shown on the chart, "hunt-and-destroy" algorithms may kick in. Those algorithms search for stops, take them out and in the process temporarily drive the stock lower….Read more at MarketWatch
A knowledgeable investor would have turned $100,000 into over $1,000,000 with the help from The Arora Report. NOW YOU TOO CAN ALSO SPECTACULARLY SUCCEED AT MEETING YOUR GOALS WITH THE HELP OF THE ARORA REPORT. You are receiving less than 2% of the content from our paid services. …TO RECEIVE REMAINING 98% INCLUDING MANY ATTRACTIVE INVESTMENT OPPORTUNITIES, TAKE A FREE TRIAL TO PAID SERVICES.
Please click here to take advantage of a FREE  30 day trial.
Check out our enviable performance in both bull and bear markets.
FREE: SUBSCRIBE TO 'GENERATE WEALTH' NEWSLETTER