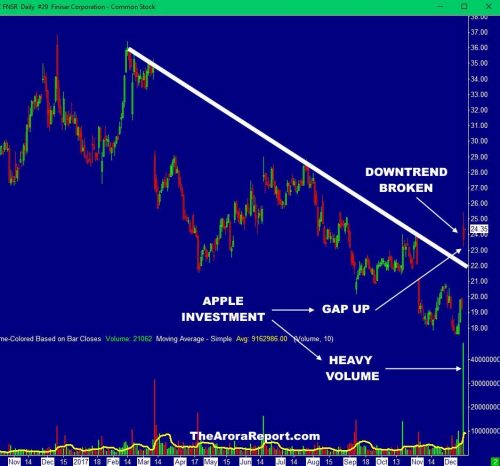 Apple is making a big move into lasers. The features you have come to love, such as Face ID, portrait mode and Animoji, all depend on lasers. Here's how you, too, can join Apple in generating profits from lasers.
Apple AAPL, -0.01% is making an investment in Finisar FNSR.  Let's explore the issue with a chart.
Chart
Please click here for an annotated chart of Finisar. Please note the following from the chart:
• At a time when the stock market is hitting new highs and tech stocks such as Nvidia NVDA, AMD AMD,  and Micron Technology MU,  are the favorites, Finisar's stock price was cut by one-half at its recent lows.
• Buying laggards in a strong sector in a bull market when there is a trigger for a change is often a good strategy.
• The downtrend is broken.
• The stock gapped up on heavy volume on the news of Apple's investment.
Ask Arora: Nigam Arora answers your questions about investing in stocks, ETFs, bonds, gold and silver, oil and currencies. Have a question? Send it to Nigam Arora.
New technology
Laser diodes have been around for a long time. These are semiconductor chips that emit coherent light. In older technology, light is emitted parallel to the boundaries between semiconductor layers.
The newer technology that is of interest to Apple is called vertical cavity surface emitting laser, or VCSEL for short. This is pronounced "vixel."
In VCSEL, light is emitted perpendicular to the boundaries between the semiconductor layers….Read more at MarketWatch
A knowledgeable investor would have turned $100,000 into over $1,000,000 with the help from The Arora Report. NOW YOU TOO CAN ALSO SPECTACULARLY SUCCEED AT MEETING YOUR GOALS WITH THE HELP OF THE ARORA REPORT. You are receiving less than 2% of the content from our paid services. …TO RECEIVE REMAINING 98% INCLUDING MANY ATTRACTIVE INVESTMENT OPPORTUNITIES, TAKE A FREE TRIAL TO PAID SERVICES.
Please click here to take advantage of a FREE  30 day trial.
Check out our enviable performance in both bull and bear markets.
FREE: SUBSCRIBE TO 'GENERATE WEALTH' NEWSLETTER