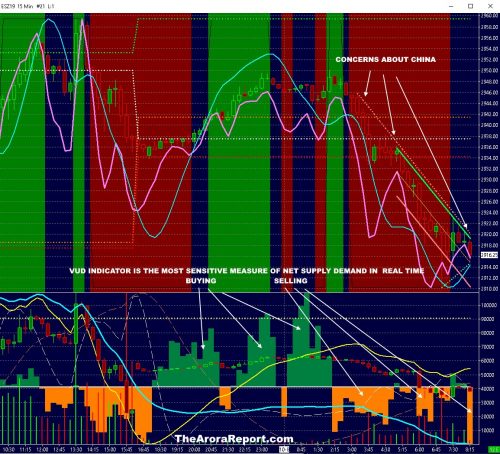 The repression of human rights in China, limits on American money flowing to Chinese stocks and a mini-crisis in Turkey are beginning to weigh on the stock market.
Let's explore this issue with the help of two charts.
Two charts
For the first chart, please click here for an annotated chart of S&P 500 ETF SPY. For the sake of transparency, this chart was previously published and no changes have been made.
For the second chart, please click here for an annotated chart of S&P futures ESZ19. The chart of futures is used because they were trading through the night when the selloff started.
Note the following:
• For proper context, please start by reading "President Trump might just be the best stock market timer ever."
• The first chart shows how Trump ran up the stock market when there was a great setup for it to fall.
• The second chart shows the drop in stock market futures on China concerns.
• The second chart shows the VUD indicator. The VUD indicator is the most sensitive measure of net supply and demand in real time. The chart shows net buying in green and net selling in orange.
• The U.S. has blacklisted 28 Chinese entities for their role in repressing Muslims in Northwest China.
• The direct effect of the blacklisting can be seen by the move in the shares of U.S. semiconductor company Ambarella AMBA. Two of the blacklisted companies make up about 25% of Ambarella's revenues.
• The blacklisting comes right ahead of the high-level talks with China.
• There is a report that the Trump administration is considering limiting U.S. government pension funds from investing in Chinese stocks.
• The Chinese state TV network halted showing NBA games after a tweet by Houston Rockets general manager Daryl Morey expressing support for Hong Kong's protestors.
• A mini-crisis is developing in Turkey. There is a report that Trump has ordered withdrawal of the U.S. troops from Northern Syria.
• Turkey has announced that it is planning to invade Syria.
• A Turkish invasion may result in a bloodbath of Kurds, who have been staunch allies of the U.S. in fighting ISIS.
• As of this writing, Trump appears to be rethinking that strategy after Republican senators objected.
• Trump needs help from those senators to ward off impeachment….Read more at MarketWatch.
A knowledgeable investor would have turned $100,000 into over $1,000,000 with the help from The Arora Report. NOW YOU TOO CAN ALSO SPECTACULARLY SUCCEED AT MEETING YOUR GOALS WITH THE HELP OF THE ARORA REPORT. You are receiving less than 2% of the content from our paid services. …TO RECEIVE REMAINING 98% INCLUDING MANY ATTRACTIVE INVESTMENT OPPORTUNITIES, TAKE A FREE TRIAL TO PAID SERVICES.
Please click here to take advantage of a FREE  30 day trial.
Check out our enviable performance in both bull and bear markets.
FREE: SUBSCRIBE TO 'GENERATE WEALTH' NEWSLETTER