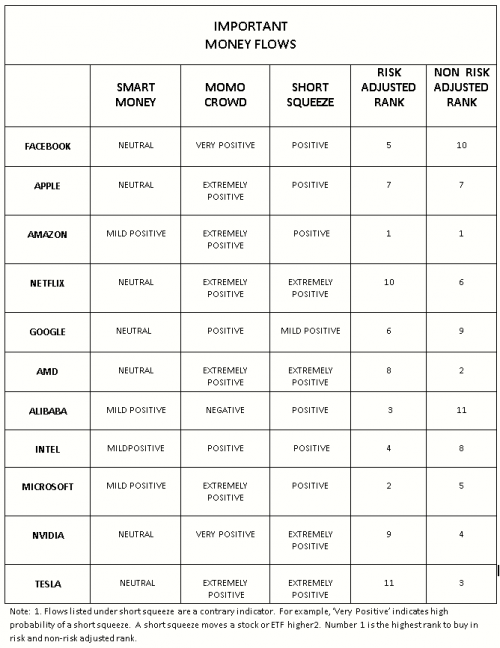 The Federal Reserve, President Trump and Congress have come up with $6 trillion in stimulus and relief programs to help the economy.
Stock market investors are cheering and not many are talking about the long-term risks from all the new borrowing.
Prudent investors ought to take a look at segmented money flows before making any buying or selling decisions.
Segmented money flows are like an X-ray of stocks — they see under the surface.
Let's explore with the help of two charts.
Two charts
Please click here for an annotated chart of the SPDR Dow Jones Industrial Average ETF DIA, which tracks the Dow Jones Industrial Average DJIA. For the sake of transparency, this chart was previously published and no changes have been made.
Please click here for a chart showing segmented money flows in 11 popular technology stocks. Money flows are based on algorithms created at the Arora Report.
Note the following:
• The first is a monthly chart giving investors a long-term perspective.
• Consider looking at the second chart in the context of the long-term perspective given by the first chart.
• The first chart shows the support-resistance zone and "mother of support zones." For more details, please click here.
• The second chart shows that smart money flows are mildly positive for shares of Amazon AMZN, Intel INTC and Microsoft MSFT. The smart money is professional investors such as fund managers and institutions.
• The second chart shows that Alibaba BABA is the most interesting among this group of 11 technology stocks because smart money flows are mildly positive but momentum crowd money flows are negative. The momentum crowd is regular investors chasing stocks that have posted big returns.
• The second chart shows momentum crowd money flows are extremely positive for shares of Apple AAPL, Advanced Micro Devices AMD, Netflix NFLX and Tesla TSLA.
• The second chart shows smart money flows are neutral for shares of Facebook FB, Alphabet GOOG, GOOGL and Nvidia NVDA….Read more at MarketWatch.
A knowledgeable investor would have turned $100,000 into over $1,000,000 with the help from The Arora Report. NOW YOU TOO CAN ALSO SPECTACULARLY SUCCEED AT MEETING YOUR GOALS WITH THE HELP OF THE ARORA REPORT. You are receiving less than 2% of the content from our paid services. …TO RECEIVE REMAINING 98% INCLUDING MANY ATTRACTIVE INVESTMENT OPPORTUNITIES, TAKE A FREE TRIAL TO PAID SERVICES.
Please click here to take advantage of a FREE  30 day trial.
Check out our enviable performance in both bull and bear markets.
FREE: SUBSCRIBE TO 'GENERATE WEALTH' NEWSLETTER