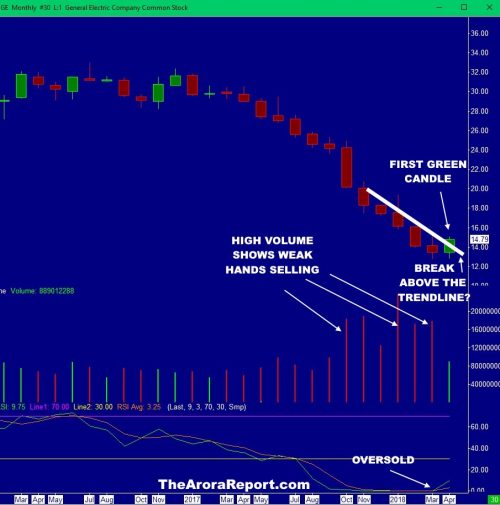 There is a good reason not to pay attention to General Electric earnings and analysts who cover the company.
Because if you did, you would have lost your shirt. To be fair, a couple of analysts have been, belatedly, correct.
Compare General Electric's GE,  chart with that of the Dow Jones Industrial Average DJIA,  and the S&P 500 ETF SPY. The drastic underperformance of General Electric's stock will surely jump out at you.
Let's explore the chart.
Chart
Please click here for an annotated chart of General Electric. Please note the following:
• General Electric is showing the first green candle on the chart in a long time. This is positive.
• During the selloff, volume picked up. This shows that weak hands may have already sold. This is positive.
• The relative strength index (RSI) is moving upward from a severe oversold condition. This is positive.
Earnings
The latest General Electric earnings have been above the consensus and the whisper numbers. Consensus numbers are the average of what analysts publish. Whisper numbers are the ones that analysts privately tell their best clients. Stocks move based on the difference between actual earnings and projections compared with the whisper numbers.
The stock initially moved up on earnings. However, in our analysis at The Arora Report, the quality of earnings is poor. Further, General Electric does not have enough cash to accomplish what it needs to do in the future. This may mean a capital increase or more asset sales. Such events are normally viewed as negative by the stock market.
In the case of General Electric, however, investors may perceive such events as fixing the problem and, thus, being positive for the stock.
Those looking for a simple answer may want to realize that there is nothing simple in the stock market. All investors will benefit by bringing more sophistication….Read more at MarketWatch.
A knowledgeable investor would have turned $100,000 into over $1,000,000 with the help from The Arora Report. NOW YOU TOO CAN ALSO SPECTACULARLY SUCCEED AT MEETING YOUR GOALS WITH THE HELP OF THE ARORA REPORT. You are receiving less than 2% of the content from our paid services. …TO RECEIVE REMAINING 98% INCLUDING MANY ATTRACTIVE INVESTMENT OPPORTUNITIES, TAKE A FREE TRIAL TO PAID SERVICES.
Please click here to take advantage of a FREE  30 day trial.
Check out our enviable performance in both bull and bear markets.
FREE: SUBSCRIBE TO 'GENERATE WEALTH' NEWSLETTER