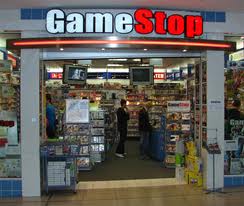 Game Stop is a retailer with about 6,600 stores, mostly selling physical video games. Shrink-wrapped video games are becoming obsolete; it is only a matter of time before consumers stop buying them. So why buy the stock?
Looking at Game Stop GME  the stock has run up 25%, as show on the chart, since it reported lousy earnings on March 27, 2014. It is being highly promoted by bullish gurus who seem to be oblivious to the history of what happens when the landscape changes.
Please click here for an annotated chart of GME.
In my mind, there is an uncanny similarity between Game Stop and Blockbuster. At its peak in 2004, Blockbuster had 9000 stores renting videos. Then came competition from Netflix   NFLX  with its DVD-by-mail service, Redbox which is a subsidiary of Outerwall  OUTR renting videos from automated kiosks, on-demand video from cable providers such as Comcast CMCSA , and streaming video. The mighty Blockbuster ended up filing for bankruptcy.
History is full of examples of the mighty falling when the new landscape develops and the old business model does not work well. Another classic example here is Radio Shack  RSH  which once traded at $79.50 is trading at $2.26 as of this writing.
Eastman Kodak was once a blue chip and part of Dow Jones Industrial Average primarily on the strength of photographic films. When digital cameras took hold, the mighty Kodak ended up filing for bankruptcy.
Changing landscape
Console makers such as Microsoft MSFT  and Sony  SNE   are increasingly encouraging digital downloads of games. As consumer habits change, there will be no need to go to a store such as Game Stop.
Even more dangerous to Game Stop is streaming games…Read more at MarketWatch 
FREE: SUBSCRIBE TO 'GENERATE WEALTH' NEWSLETTER