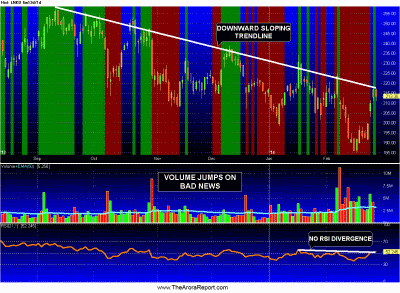 LinkedIn is the largest social network for professionals in the world. On balance, LinkedIn stock is in no-man's-land at this time. It can as easily go to $300 as it can to $100. As of this writing, the stock is at $213.30. Let us examine the eight most important factors for this stock.
Technical perspective
From a technical perspective, the stock is in a downtrend.
Please click here for the annotated chart .
As the chart shows, the price action over the last several months is capped by a downward-sloping trendline. Volume also jumps on bad news much more than on good news.
After three to five months of a downtrend trend  of a popular stock in this bull market, it is common for the relative-strength index (RSI) to start diverging from the price action. Such divergence is typically an early sign of a turnaround. However, as the chart shows, in the case of LinkedIn LNKD , there is no RSI divergence at this time.
The sum total of the foregoing is that the technical picture for LinkedIn is decisively negative at this time.
Fund flows
At The Arora Report, we pay lot of attention to fund flows. Fund flows tell us what big institutional investors are doing. So far in 2014, funds have been coming out of LinkedIn. In comparison, there is a strong fund flow into Facebook  FB and a mildly positive fund flow into Twitter TWTR.
Multiple income streams
LinkedIn has an advantage over competing social networks such as Facebook, Twitter and Google Plus GOOG, in that LinkedIn has three distinct revenue streams, whereas other networks primarily depend on advertising…Read more on MarketWatch
FREE: SUBSCRIBE TO 'GENERATE WEALTH' NEWSLETTER