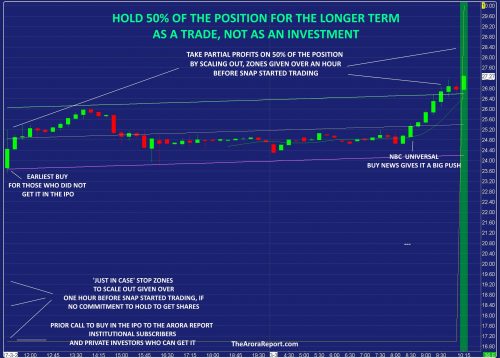 Snap, the parent of Snapchat, is the hottest initial public offering of the year. The company's shares were listed this week at $17 and recently traded at $27.
So investors are naturally asking me: How do I trade Snap SNAP? Will Snap become successful like Facebook FB? Will Snap's stock shoot up like Twitter's TWTR only to fizzle? Since Snap is marketing itself as a video-camera company, is a comparison to GoPro's GPRO, IPO appropriate?
Let me first share with you how we are trading Snap for the short term at The Arora Report. Then I'll compare Snap to those three companies, and give you my take on Snap as a long-term investment.
How to trade Snap
The annotated chart shows The Arora Report's calls on Snap. (Please click here for the annotated chart.) The posture that The Arora Report has taken is to trade the stock but not invest in it at this time. We have "just in case" defensive stops in place and are taking profits on half of the position and continuing to hold the remainder for a little longer to see if momentum drives the stock higher.
Here is the post we made available to our subscribers more than one hour before Snap started trading Thursday: "Snap IPO priced at $17 per share. The preliminary opening indication is $22. Consider stops on one-third in the zone of $19.23 to $19.38, on another third $18.63 to $18.68, and on the remaining third $16.87 to $16.97. Consider scaling out one-half of the position in the following target zones: $23 to $24.73, $26 to $26.73, and $28 to $28.43."
Since it's a trading position, today we have raised stops on one-half of the longer-term position to $23 to $23.38, and the remaining to $19.11 to $19.38…Read more at MarketWatch
You are receiving less than 2% of the content from our paid services …TO RECEIVE REMAINING 98%, TAKE A FREE TRIAL TO PAID SERVICES.
Please click here to take advantage of a FREE  30 day trial.
Check out our enviable performance in both bull and bear markets.
FREE: SUBSCRIBE TO 'GENERATE WEALTH' NEWSLETTER