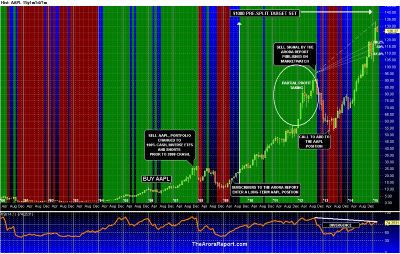 The long-awaited event happened. The world's most valuable company, Apple (AAPL), has been added to the world's most well-known index, the Dow Jones Industrial Average. It is quite an honor for Apple to replace AT&T ( T), which was added to Dow Jones in 1916, and in many ways is symbolic of what life has been like for the company since the bubble burst.
Apple stock has been a remarkable success since Nasdaq crash of the year 2000.The annotated chart tells the story of the march from market cap of about $26 billion in 2000 to about $750 billion in 2015.
Please click here for an annotated chart of Apple.
Start by noticing the divergence between the RSI shown on the bottom panel of the chart and the price action of Apple. The price of Apple now is much higher than the price at 2012 peak; whereas, RSI now is somewhat lower than the RSI at the time of the 2012 peak. Traditionally, such a divergence is considered negative.
At the time, The Arora Report recommended buy of Apple at an average price of 18.71, the target was set at 1000 pre-split, or about 140 post-split. Our current target continues to be 140. Buying the stock at the current price of about $130 is not attractive given that it is only about $10 above and the probability of a pullback to the 110-115 zone is high. This zone is determined by Fibonacci fans shown on the chart….Read more on MarketWatch
You are receiving less than 2% of the content from our paid services …TO RECEIVE REMAINING 98%, TAKE A FREE TRIAL TO PAID SERVICES.
Please click here to take advantage of a FREE  30 day trial.
Check out our enviable performance in both bull and bear markets.
FREE: SUBSCRIBE TO 'GENERATE WEALTH' NEWSLETTER