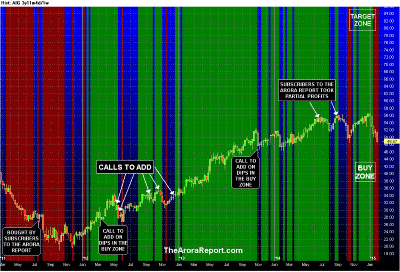 "I am a long-term investor. How do I handle the market volatility?" This is the question I am asked most often these days. I will illustrate with three stocks from one of The Arora Report portfolios, including where to buy them, how to buy them and where to take profits.
This portfolio has over 50 positions. Out of these positions, the top 10 are the core of the portfolio, are meant to be held for three plus years, and partial profits are taken on up spikes and additional quantities are bought on down spikes. This way we are always taking some profits when the market is high and always buying when the market is low.
American International Group Inc. AIG,  is a large insurance company that would have gone bankrupt during the 2008 financial crisis if it was not for the bailout by the Federal government. AIG was one of the preeminent and most well managed insurance companies in the world. It just had a small rogue division that caused the havoc. Ever since the bailout, I was patiently waiting for the right time when there would be enough hard data to know that majority of the risk was behind us and only rewards were ahead.
Please click here to see the annotated chart of AIG.
The chart linked above shows the initial entry. It also shows various times when additions to the position took place and when partial profits were taken…Read more at MarketWatch
You are receiving less than 2% of the content from our paid services …TO RECEIVE REMAINING 98%, TAKE A FREE TRIAL TO PAID SERVICES.
Please click here to take advantage of a FREE  30 day trial.
Check out our enviable performance in both bull and bear markets.
FREE: SUBSCRIBE TO 'GENERATE WEALTH' NEWSLETTER