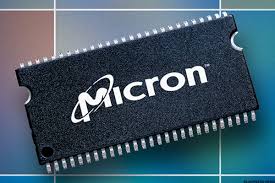 This post was just published on ZYX Buy Change Alert.
Micron (MU) is long from $21.77.  It is trading at $46.03 as of this writing.  MU makes DRAM and NAND memory chips.  It is one of the cheapest stocks trading at a P/E of about 4.
Gross margins on NAND memory chips may have already peaked.  There are indications that gross margins on DRAM may also be peaking.  If it turns out to be true, then the earnings estimates on Wall Street are too high.  This has happened before.  In the last cycle, when Wall Street earnings estimates started coming down, this stock was  hit really bad.
As we write this post, MU is changing its bullish tune at admitting that NAND price did decline. MU is presenting at a Citigroup ( C) conference.
For the time being, the buy zone remains suspended, the 'Buy Now' rating for those following the 'Good Way' is 'NO.'  The target zone is also being suspended until more information is known.
Buyback
MU CFO has just said that at the present price level, buying MU stock is a good value.  MU has a major stock buyback plan in place.  This should provide a floor for the stock.
What To Do Now
At this time, it is a matter of personal preference.  Due to the huge stock buyback, for tracking purposes the stock will continue to be held.  The other reason to continue to hold the stock is that the sentiment can easily turn positive.  If the sentiment turns positive, without any significant change in fundamentals, the stock can easily run to the high $50s.
A knowledgeable investor would have turned $100,000 into over $1,000,000 with the help from The Arora Report. NOW YOU TOO CAN ALSO SPECTACULARLY SUCCEED AT MEETING YOUR GOALS WITH THE HELP OF THE ARORA REPORT. You are receiving less than 2% of the content from our paid services. …TO RECEIVE REMAINING 98% INCLUDING MANY ATTRACTIVE INVESTMENT OPPORTUNITIES, TAKE A FREE TRIAL TO PAID SERVICES.
Please click here to take advantage of a FREE  30 day trial.
Check out our enviable performance in both bull and bear markets.
FREE: SUBSCRIBE TO 'GENERATE WEALTH' NEWSLETTER