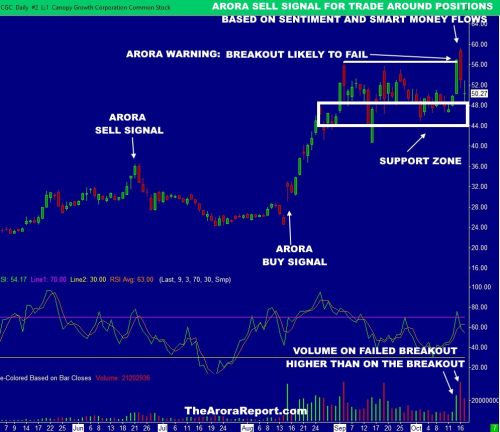 ACT NOW TO SAVE $2,005 — FOR INVESTORS SERIOUS ABOUT MAKING MILLIONS IN MARIJUANA
Marijuana presents a tremendous opportunity for investors over the next few years. Naïve investors are excited. They think that all they have to do is to buy a few marijuana stocks and they will become rich. The reality is that professionals will pick their pockets, and many naïve investors who are excited now will end up losing 90% of their investment.
I have witnessed the same phenomenon numerous times in my over 30 years in the markets.
Do not despair. With some skill, knowledge, patience, self-discipline and proper guidance, most investors have the potential to make millions, or a lot of money, in marijuana. Consider adopting a sophisticated approach. Sophistication takes more work but it is well worth it.
First things first, right now investors need to pay attention to the big Canadian marijuana nightmare ahead. The nightmare will cause big losses for the uninitiated but will present opportunities for the knowledgeable investor. Let us first build the requisite background to understand the nightmare and the opportunity with the help of a chart.
Chart
Please click here for the annotated chart of Canopy Growth CGC. Please note the following:
• Canopy Growth is a more solid company compared to other major marijuana companies such as Tilray TLRY, Aphria APHQF, Cronos CRON, and Aurora Cannabis ACBFF. To understand this in detail, please read "If you buy only one marijuana stock, this should be it."
• The chart shows the Arora sell signal right at the peak of the last cycle in Canopy Growth stock. Subsequently, Canopy Growth lost over one-third of its value.
• The chart shows the Arora buy signal. Since the Arora buy signal, Canopy Growth stock has had a major run. We have taken partial profits.
• The chart shows the technical breakout.
• The chart shows Arora warning that the breakout was likely to fail. That call has now proven spot on.
• The chart shows the Arora sell signal for trade-around positions based on sentiment and smart money flows. For details, please read "What could hurt marijuana stocks? Too much love from investors." The sell signal for trade-around positions has now also proven spot on. A technique that we use at The Arora Report often doubles the return and lowers the risk; in this technique, a long-term core position is accumulated at favorable prices and then the core position is surrounded by shorter-term trades. This is an easy-to-use technique, and all serious investors should consider using it. There are many nuances that are beyond the scope of this column but are included in the Trade Management Guidelines provided to The Arora Report subscribers…Read more at MarketWatch.
A knowledgeable investor would have turned $100,000 into over $1,000,000 with the help from The Arora Report. NOW YOU TOO CAN ALSO SPECTACULARLY SUCCEED AT MEETING YOUR GOALS WITH THE HELP OF THE ARORA REPORT. You are receiving less than 2% of the content from our paid services. …TO RECEIVE REMAINING 98% INCLUDING MANY ATTRACTIVE INVESTMENT OPPORTUNITIES, TAKE A FREE TRIAL TO PAID SERVICES.
Please click here to take advantage of a FREE  30 day trial.
Check out our enviable performance in both bull and bear markets.
FREE: SUBSCRIBE TO 'GENERATE WEALTH' NEWSLETTER