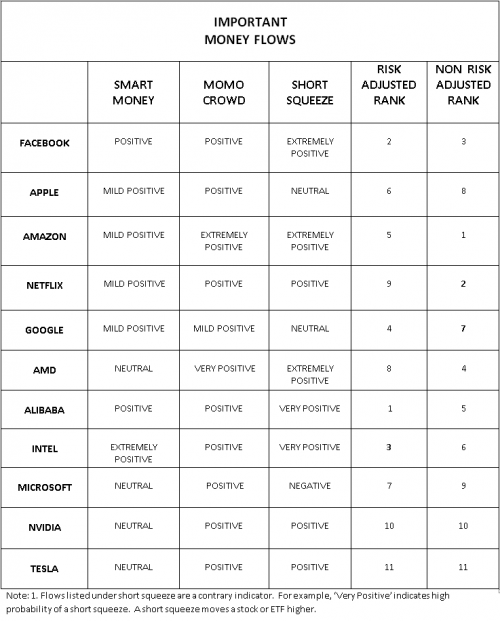 Are you an investor who wants to beat the market and also lower your risk?
If you do, look at money flows — they give you an edge. Technology stocks are the leaders in this "up" leg in the stock market. Let's review money flows in 11 popular technology stocks with the help of a chart.
Please click here and note the following:
• When taken in totality, money flows are the most positive since January 2018.
• Positive money flows are good for stocks until they reach very high levels. Money flows in popular tech stocks have reached very high levels quickly. This is often a contrarian signal. This means there is too much risk in buying popular tech stocks right here. Since tech stocks have been the leaders, the risk in the overall market has increased.
• Risk-adjusted rank is number one for Alibaba BABA, and number two for Facebook FB.  These ranks are based on the six screens of the ZYX Change Method. Please click here to learn about the six screens.
• Non-risk-adjusted rank is number one for Amazon AMZN, and number two for Netflix NFLX.
• Nvidia NVDA,  and Tesla TSLA, are ranked the lowest.
• Intel INTC, is seeing extremely positive smart money flows. (The smart money is professional investors.)
• Smart money flows have slipped to neutral in AMD AMD, but the momo (momentum) crowd flows are very positive.
• Microsoft MSFT, has moved up but smart money flows are neutral.
• Smart money flows in Apple AAPL, and Google GOOG, GOOGL, are mildly positive…Read more at MarketWatch.
A knowledgeable investor would have turned $100,000 into over $1,000,000 with the help from The Arora Report. NOW YOU TOO CAN ALSO SPECTACULARLY SUCCEED AT MEETING YOUR GOALS WITH THE HELP OF THE ARORA REPORT. You are receiving less than 2% of the content from our paid services. …TO RECEIVE REMAINING 98% INCLUDING MANY ATTRACTIVE INVESTMENT OPPORTUNITIES, TAKE A FREE TRIAL TO PAID SERVICES.
Please click here to take advantage of a FREE  30 day trial.
Check out our enviable performance in both bull and bear markets.
FREE: SUBSCRIBE TO 'GENERATE WEALTH' NEWSLETTER