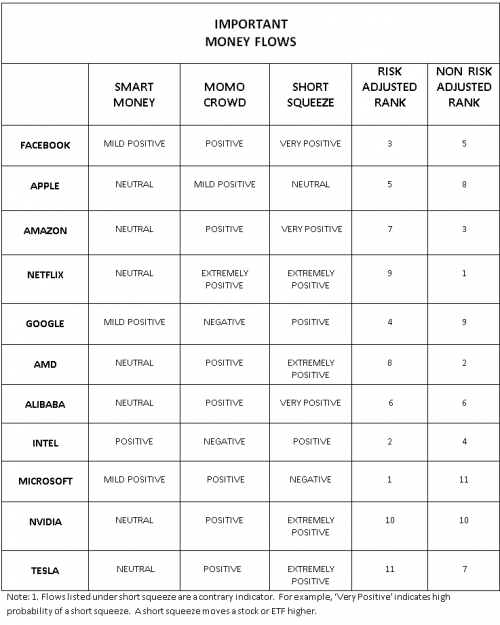 Human nature is such that nothing teaches us better than the school of hard knocks.
Until the last quarter of 2018, many individual investors were fond of making contemptuous comments every time I wrote about the importance of gaining an edge. Of course, professional investors have always known better.
In a bull market, everybody is a genius. Often, investors with less knowledge end up doing better than prudent investors. The reason is that prudent investors take steps to control risks. Now, after the last painful quarter for those less informed, not only are the contemptuous comments gone, but a whole new group of investors want me to teach them how to gain an edge.
One of the best tools to gain an edge is segmented money flows. Let's explore with the help of a chart.
Chart
Please click here for a chart showing segmented money flows in 11 popular tech stocks. Due to the popularity of these stocks, it makes sense to look at them in addition to Dow Jones Industrial Average DJIA and broad-based ETFs such as S&P 500 ETF SPY, Nasdaq 100 ETF QQQ and small-cap ETF IWM. Please note the following:
• As shown on the chart, momo crowd money flows are extremely positive in Netflix NFLX. Short-squeeze money flows are also extremely positive in Netflix. (On Friday several analysts upgraded the stock.) This means Netflix can fly if there is some good news, such as earnings that are better than the whisper numbers. Investors ought to pay attention to whisper numbers and not the consensus numbers because stocks move based on the difference between those two.
Note on the chart that the smart money flows are neutral in Netflix. This goes back to what I said above. Smart money tends to take risk into account. After the recent run-up in Netflix, when risk is taken into account, in addition to the potential reward, the risk-reward is balanced. The momo crowd does not care about the risk and continues to heavily buy.
Also notice the contrast between the non-risk-adjusted ranking of one and the risk-adjusted rankings of nine. I will explain rankings later.
• As shown on the chart, momo crowd money flows are positive in AMD AMD and Amazon AMZN. Short-squeeze money flows are extremely positive in AMD and very positive in Amazon. In plain English, this means that these stocks can fly on good news.
In contrast, smart money flows are neutral in both Amazon and AMD. The rankings shown on the chart for Amazon and AMD reflect the contrast between taking risk into account and ignoring risk.
• Intel INTC is the only stock among the popular 11 tech stocks shown on the chart with positive smart money flows. In contrast, the momo crowd does not like Intel….Read more at MarketWatch.
A knowledgeable investor would have turned $100,000 into over $1,000,000 with the help from The Arora Report. NOW YOU TOO CAN ALSO SPECTACULARLY SUCCEED AT MEETING YOUR GOALS WITH THE HELP OF THE ARORA REPORT. You are receiving less than 2% of the content from our paid services. …TO RECEIVE REMAINING 98% INCLUDING MANY ATTRACTIVE INVESTMENT OPPORTUNITIES, TAKE A FREE TRIAL TO PAID SERVICES.
Please click here to take advantage of a FREE  30 day trial.
Check out our enviable performance in both bull and bear markets.
FREE: SUBSCRIBE TO 'GENERATE WEALTH' NEWSLETTER