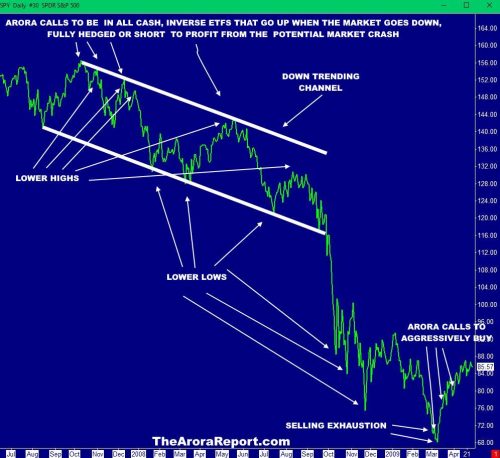 The media is full of reports of investors acting out of FOMO — "fear of missing out."
Many investors suffering from FOMO are making a classic mistake. I describe a better way in this article. The large response I received adds to the anecdotal evidence that many investors are making a second classic mistake, as they suffer from the fear of heights. This is the flip side of the fear of missing out.
About a year ago, when The Arora Report laid out a scenario for Dow 30,000, we got a fair bit of hate mail. Now we are getting some hate mail for staying bullish when the market is so high. Many investors are very concerned that the stock market has gone up in a straight line, valuations are stretched and technically the market is very overbought. Many in this group are making the second classic mistake — completely selling out of stocks.
Before sharing with you a better way to deal with the fear of heights, let us first look at two charts to fully understand the issue and the better way.
Two charts
Please click here for the annotated chart of Dow Jones Industrial Average ETF DIA.  The chart shows the measured target for the Dow DJIA, is 32,000. The first strong support is around Dow 18,000, or the level from which the stock market broke out after the 2016 election. This is about 8,000 points below where the Dow now trades. This indicates that although the bullish case for the market remains intact; there is also high risk from a technical perspective.
In the interest of full transparency, this is the same chart that was published in my earlier piece about FOMO.
Please click here for the annotated chart of S&P 500 ETF SPY,  during the 2008 stock market crash. Similar conclusions can be drawn from charts of the ETF QQQ, that represents Nasdaq-100 NDX,   and the ETF IWM,  that represents the Russell 2000 RUT.  Please observe the following from the chart:
•The crash didn't happen all of a sudden…..Read more at MarketWatch
A knowledgeable investor would have turned $100,000 into over $1,000,000 with the help from The Arora Report. NOW YOU TOO CAN ALSO SPECTACULARLY SUCCEED AT MEETING YOUR GOALS WITH THE HELP OF THE ARORA REPORT. You are receiving less than 2% of the content from our paid services. …TO RECEIVE REMAINING 98% INCLUDING MANY ATTRACTIVE INVESTMENT OPPORTUNITIES, TAKE A FREE TRIAL TO PAID SERVICES.
Please click here to take advantage of a FREE  30 day trial.
Check out our enviable performance in both bull and bear markets.
FREE: SUBSCRIBE TO 'GENERATE WEALTH' NEWSLETTER