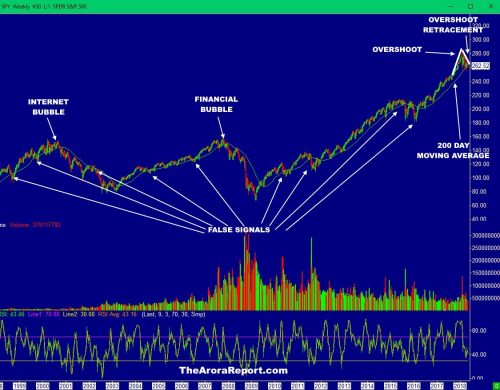 The most popular timing indicator in the U.S. stock market is the 200-day moving average.
The indicator derives its power not from anything innate in the stock market, but from the legions of investors who believe in it. It often becomes a self-fulfilling prophecy.
Investors ought to pay attention to a developing pattern. Let's explore with a chart.
Chart
Please click here for an annotated chart of S&P 500 ETF SPY.  Similar patterns can be observed in the charts of Dow Jones Industrial Average DJIA,  Nasdaq 100 ETF QQQ,  and small-cap ETF IWM.  Please observe the following from the chart:
• The chart shows the overshoot the stock market experienced.
• The chart shows the retracement of the overshoot.
• As of this writing, the stock market is around the 200-day moving average.
• The foregoing three items constitute the developing pattern that investors ought to pay attention to.
• There is not enough historical precedence to know how this pattern resolves itself.
• The chart shows that following this timing indicator would have saved investors losses suffered during the financial bubble and the internet bubble.
• The chart shows numerous false signals this indicator has generated. Investors may want to note that believers in this indicator tend to not even acknowledge the false signals.
What to do now
Investors ought to bring more sophistication to their investing and use a more complex model. (We use the ZYX Global Multi Asset Allocation Model — click here for more information.) Furthermore, investors ought to guard against getting whipsawed by selling when the market falls below the 200-day moving average and buying when the market goes above the 200-day moving average…Read more at MarketWatch.
A knowledgeable investor would have turned $100,000 into over $1,000,000 with the help from The Arora Report. NOW YOU TOO CAN ALSO SPECTACULARLY SUCCEED AT MEETING YOUR GOALS WITH THE HELP OF THE ARORA REPORT. You are receiving less than 2% of the content from our paid services. …TO RECEIVE REMAINING 98% INCLUDING MANY ATTRACTIVE INVESTMENT OPPORTUNITIES, TAKE A FREE TRIAL TO PAID SERVICES.
Please click here to take advantage of a FREE  30 day trial.
Check out our enviable performance in both bull and bear markets.
FREE: SUBSCRIBE TO 'GENERATE WEALTH' NEWSLETTER