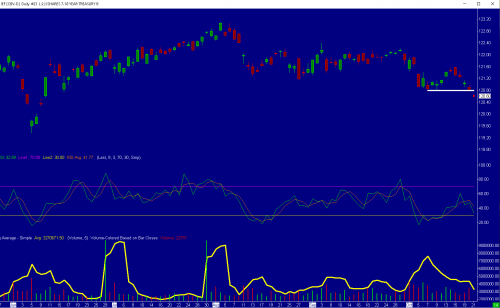 To gain an edge, this is what you need to know today.
Wall Street Positioning
Please click here for a chart of 10-year Treasury bond ETF (IEF).
Note the following:
Sophisticated investors know that paying attention to Wall Street's position ahead of the election is the second most important thing to do. Of course the most important is the actual election results.
The move in the markets after the election will be determined not by the election results but by the difference between Wall Street's positioning and the election results. For example, in 2016 Wall Street was positioned for a Clinton win.  This is one of the reasons that the stock market took off when Trump won. This was a big part of the logic behind The Arora Report giving a buy signal on Trump's win at a time when most analysts were calling for a disaster in the stock market.
Investors can get one important clue by watching money flows and price action in 10-year Treasury bond futures. Since many investors are not comfortable with futures, an easy alternative is to watch the price action in ETF IEF.
The chart shows that IEF is breaking down.  IEF moves inverse to the yield.  In plain English, it means that interest rates in the 10-year time frame are beginning to rise but they are not rising a lot.
Right now Wall Street is positioned for a Biden win and Republicans continuing to keep the majority in the Senate.
Wall Street positioning is one reason that the stock market is continuing to hold up.
If Republicans hold on to the majority of the Senate, much of the Biden agenda will not be implemented.
The foregoing explains why the market is not seeing selling on the prospects of a Biden win.
Momo Crowd And Smart Money In Stocks
The momo crowd is 🔒 (To see the locked content, please take a 30 day free trial) stocks in the early trade.  Smart money is🔒.
Gold
The momo crowd is 🔒 gold in the early trade.  Smart money is 🔒.
The momo crowd is 🔒 silver in the early trade.  Smart money is 🔒.
For longer term, please see gold and silver ratings.
Oil
API reported a crude build of 584k barrels vs. consensus of a draw of 240K barrels. This data is bearish.
The momo crowd🔒 oil in the early trade. Smart money is 🔒.
For longer term, please see oil ratings.
Markets
Our very, very short-term early stock market indicator is neutral.  This indicator, with a great track record, is popular among long term investors to stay in tune with the market and among short term traders to independently undertake quick trades.
Interest rates are ticking up and bonds are ticking down.
The dollar is weaker.
Trading futures is not recommended for most investors. The purpose of providing this information is to give an indication of the premarket activity that usually guides the activity when the market opens.
Gold futures are at $1926, silver futures are at $25.23, and oil futures are $41.03.
S&P 500 futures resistance levels are 3460, 3520 and 3600: support levels are 3420, 3390 and 3320.
DJIA futures are up 5 points.
Protection Bands and What To Do Now?
It is important for investors to look ahead and not in the rear view mirror.
Consider continuing to hold existing positions. Based on individual risk preference, consider holding 🔒 in cash or treasury bills or short term bond funds or allocated to short term tactical trades and short to medium-term hedges of 🔒and short term hedges of 🔒. This is a good way to protect yourself and participate in the upside at the same time.
You can determine your protection bands by adding cash to hedges.  The high band of the protection is appropriate for those who are older or conservative. The low band of the protection is appropriate for those who are younger or aggressive.  If you do not hedge, total cash level should be more than stated above but significantly less than cash plus hedges.
It is worth reminding that you cannot take advantage of new upcoming opportunities if you are not holding enough cash.  When adjusting hedge levels, consider adjusting partial stop quantities for stock positions (non ETF); consider using wider stops on remaining quantities and also allowing more room for high beta stocks.  High beta stocks are the ones that move more than the market.
This post was just published on the paid services of The Arora Report.
A knowledgeable investor would have turned $100,000 into over $1,000,000 with the help from The Arora Report. NOW YOU TOO CAN ALSO SPECTACULARLY SUCCEED AT MEETING YOUR GOALS WITH THE HELP OF THE ARORA REPORT. You are receiving less than 2% of the content from our paid services. …TO RECEIVE REMAINING 98% INCLUDING MANY ATTRACTIVE INVESTMENT OPPORTUNITIES, TAKE A FREE TRIAL TO PAID SERVICES.
Please click here to take advantage of a FREE  30 day trial.
FREE: SUBSCRIBE TO 'GENERATE WEALTH' NEWSLETTER