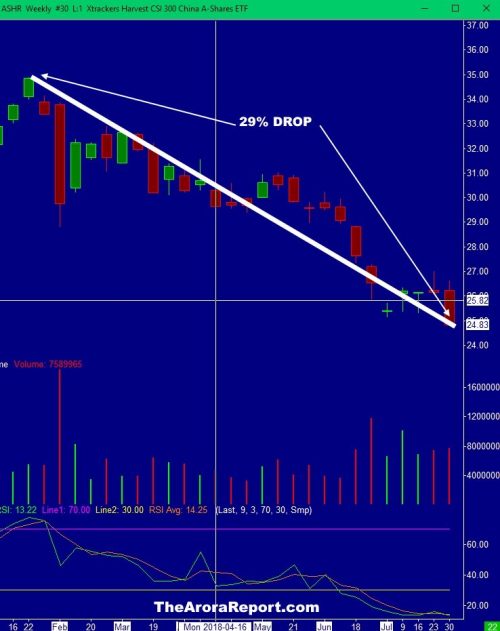 The Trump administration is looking to impose 25% tariffs on $200 billion of Chinese goods. The previous proposal was for 10% tariffs.
Many investors are not as concerned about the trade war as they ought to be. The reason is that they look at the charts of Dow Jones Industrial Average DJIA, S&P 500 ETF SPY, Nasdaq 100 ETF QQQ, and small-cap ETF IWM.  Those charts do not show much damage from the trade war.
Prudent investors ought to look at this most important chart, and it may change your mind.
The chart
Please click here for the chart of Mainland China ETF Xtrackers Harvest CSI 300 China A ETF ASHR.  The chart shows ASHR dropping 29% from its peak.
Could the same happen to U.S. stocks? It is not likely but not impossible. Many individual stock portfolios are heavily concentrated in popular tech stocks such as Apple AAPL, Amazon AMZN, Facebook FB, Google GOOG, GOOGL, and Netflix NFLX.  Apple is especially vulnerable if the situation with China gets much worse. Please see "Apple stock's next milestone is $250 as the company makes a crucial transition."
Amazon, Facebook and Google do not have much exposure to China, but they're still vulnerable if the broader market drops.
Two stocks to watch
U.S.-based investors may want to closely watch Boeing BA, and Caterpillar CAT.  Professional investors are keeping a close eye on those two stocks as a proxy for the trade war.
What to do now
Investors ought to consider raising more cash and putting on more hedges…Read more at MarketWatch.
A knowledgeable investor would have turned $100,000 into over $1,000,000 with the help from The Arora Report. NOW YOU TOO CAN ALSO SPECTACULARLY SUCCEED AT MEETING YOUR GOALS WITH THE HELP OF THE ARORA REPORT. You are receiving less than 2% of the content from our paid services. …TO RECEIVE REMAINING 98% INCLUDING MANY ATTRACTIVE INVESTMENT OPPORTUNITIES, TAKE A FREE TRIAL TO PAID SERVICES.
Please click here to take advantage of a FREE  30 day trial.
Check out our enviable performance in both bull and bear markets.
FREE: SUBSCRIBE TO 'GENERATE WEALTH' NEWSLETTER