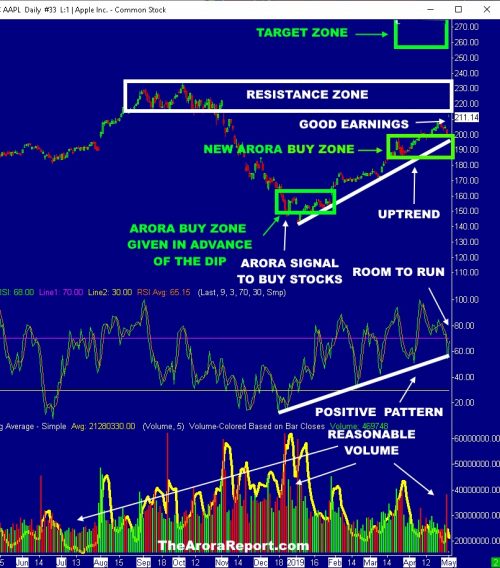 The U.S. stock market is controlled by the momo, or momentum, crowd.
If you have drunk the Kool-Aid of the momo crowd, all you care about is that Apple's stock is rising; there is no need to analyze or read this column.
But what if you are a prudent investor? You should be paying close attention to Apple's AAPL 17% problem. Let's examine the issue with the help of a chart.
Chart
Please click here for an updated chart of Apple's stock. Please note the following:
• Before you send me hate mail, please click here. For the sake of transparency, this chart is the same as when it was originally published. When The Arora Report gave a signal to aggressively buy Apple stock at $18.73, I was talking about Apple stock going to $143. This call was made long before Apple became a popular stock. Many called it outrageous; some even canceled their subscriptions. We are still holding part of the original position in the Model Portfolio. The chart shows that we have about doubled our returns by using trade-around positions surrounding the core position.
• The chart shows a gap open in Apple's stock after the earnings.
• Apple beat both the consensus and the whisper numbers. Stocks move based on the difference between their reported numbers and the whisper numbers.
• The chart shows that the new resistance zone is ahead.
• The chart shows that the stock has been in a steady uptrend since the cycle low.
• The chart shows the new Arora buy zone.
• The chart shows the prior Arora buy zone that was given in advance of the last dip in Apple's stock.
• The chart shows that the relative strength index (RSI) has traced a positive pattern.
• RSI shows that the stock has room to run.
• The chart shows that the volume during the rally is reasonable.
• Apple announced an aggressive buyback program. The buyback puts a floor under the stock. The buybacks alone may cause the stock to rise by about $50 a share over the next five years.
• Before many were talking about services, I was writing that Apple's future was in services. I was also writing that Apple's stock could get a higher price-to-earnings (P/E) ratio once services reached about 20% of revenues…Read more at MarketWatch.
A knowledgeable investor would have turned $100,000 into over $1,000,000 with the help from The Arora Report. NOW YOU TOO CAN ALSO SPECTACULARLY SUCCEED AT MEETING YOUR GOALS WITH THE HELP OF THE ARORA REPORT. You are receiving less than 2% of the content from our paid services. …TO RECEIVE REMAINING 98% INCLUDING MANY ATTRACTIVE INVESTMENT OPPORTUNITIES, TAKE A FREE TRIAL TO PAID SERVICES.
Please click here to take advantage of a FREE  30 day trial.
Check out our enviable performance in both bull and bear markets.
FREE: SUBSCRIBE TO 'GENERATE WEALTH' NEWSLETTER