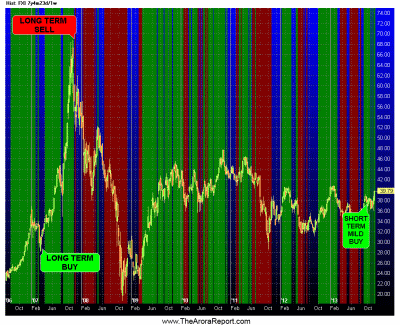 Please click here to enlarge the chart.
After the Communist Party's Central Committee meeting ended, China has issued a 20,000-word document discussing reforms. The document contains 60 items, and plans for results to be achieved by 2020. But what do they mean for investors? And how was the news taken?
Investors are euphoric. Overnight on Monday, Hong Kong-listed Chinese H shares gained 5.7% building on a 3% rally on Friday. Hong Kong's Hang Seng Index rocketed 2.7%. Shanghai Composite rose 2.9%. In the U.S., heavy buying has occurred in call options on iShares FTSE Xinhua China 25 Index Fund ETF FXI.
At The Arora Report, we closely follow 15 emerging markets, including China. We provide signals in three time frames; short-, medium- and long-term. We issued a long-term sell signal on China in 2007, as shown on the chart linked below. This long-term sell signal on China is still in effect. On Sept. 18, 2013, The Arora Report upgraded China for the short-term as shown on the chart.
Please click here for an annotated chart.
The background colors on the chart represent weighted conclusion of one of the six screens of the ZYX Change Method; green is a buy, red is a sell, and blue is neutral.
There were several reasons behind issuing the long-term sell signal on China in 2007. The reforms, if properly implemented, will rectify some of those reasons, but not all, as described below.
One-child policy
China's forced one-child policy has been highly successful in controlling the population. However, it is skewing the demographics toward an older population and creating a big imbalance between the male and female ratio. Our research conclusively shows that if everything else is equal, demographics is a big long-term predictor of the stock market in a country. A country with a younger population does better than a country with an older population…Read more at MarketWatch
FREE: SUBSCRIBE TO 'GENERATE WEALTH' NEWSLETTER