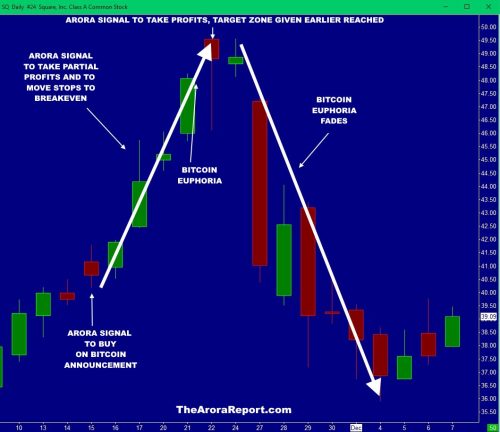 I have been flooded with requests from investors wanting to invest in bitcoin-related stocks. Such investors typically are not comfortable sending money to a bitcoin exchange that they know nothing about.
The good news is that three established exchanges, Cboe CBOE,  CME CME, and Nasdaq NDAQ,  are starting futures on bitcoin. However, most investors are not comfortable trading futures. For most investors, my recommendation is to stay away from bitcoin futures due to extremely high risk.
Unfortunately there is no bitcoin ETF as this time. That leaves us with bitcoin-related stocks.
There are several stocks as potential investments on The Arora Report's radar related to cryptocurrencies and blockchain technology that The Arora Report expects to issue "buy" signals in the future as appropriate. There is no doubt that blockchain technology will revolutionize commerce. Blockchain technology is still in its infancy, similar to the time in the 1990s when the internet was developing for a mass market. Investors who invested early in the internet boom made a lot of money.
I do not mean to dim investors' enthusiasm for investing in bitcoin-related stocks right away, but as a public service I must clearly and strongly inform investors that currently there are short-term trading opportunities but not long-term investment opportunities that are ripe to buy today. Some of those will ripen for long-term investments in due course.
Let us discuss a few stocks for investors to get a taste of how to make money trading these stocks.
Square
Please click here for an annotated chart of Square SQ.  The Arora Report gave a "buy" signal, as shown on the chart, when Square made a bitcoin-related announcement…Read more at MarketWatch
You are receiving less than 2% of the content from our paid services …TO RECEIVE REMAINING 98%, TAKE A FREE TRIAL TO PAID SERVICES.
Please click here to take advantage of a FREE  30 day trial.
Check out our enviable performance in both bull and bear markets.
FREE: SUBSCRIBE TO 'GENERATE WEALTH' NEWSLETTER