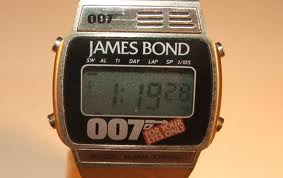 It was not long ago that Samsung introduced the wearable watch that communicates with Samsung phones under the brand name Galaxy Gear. Galaxy Gear sales have been nothing to write home about, but poor sales have not stopped intense speculation that Apple  (AAPL) will soon introduce its own wearable watch to compete with Samsung.
Now Samsung is upping the ante by beating Apple to the punch with the planned introduction of a new stand along smart watch-phone. According to the Wall Street Journal, the new watch-phone will have "a suite of features that would make the gadget-toting James Bond proud. (The fictional British spy used a wrist walkie-talkie in the movie "For Your Eyes Only.")."
To date, most smart watches work with a phone and are not stand alone. An example of an existing stand along watch-phone is a TrueSmart from Omate.
phone will not run on Android but on Tizen. Tizen is a homegrown operating system that Samsung is trying to test out in the market to reduce its reliance on Android from Google (GOOG).
Tizen has a long history behind it.  Samsung's collaboration with the Enlightenment Foundation Libraries (EFL) for years was known as LiMo or Linux platform for mobile…Read more at Forbes
What To Do Now?
Those in Apple stock may continue to hold.
Those not in Apple stock may wait for a signal on the Real Time Feed.
FREE: SUBSCRIBE TO 'GENERATE WEALTH' NEWSLETTER