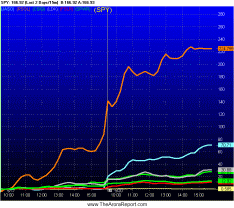 The stock market goes up almost every day. Animal spirits are running. Who can blame investors for throwing caution to the wind?
Over the last two days, shades of 1999 are beginning to appear. Investors may recall that the market crashed in 2000. Conservative investors may want to be careful.
Short squeezes are common and often push highly shorted stocks to heights not commensurate with fundamentals. However, when short squeezes get obscene, these are the first signs of an impending correction.
As an example, take a look at the solar stocks shown on the chart.
On Monday, JA Solar Holdings JASO, a Chinese company that produces silicone based solar panels, reported earnings and the stock promptly jumped up 70.37%. In afterhours, the stock jumped an additional 5.68%. The earnings were better than expected but hardly enough to anywhere near justify the rise in the stock. The company reported a loss of $0.85 compared to consensus of $1.03. It is important to note that consensus is somewhat meaningless because it is based on the estimates of only two analysts.
What is most intriguing is that the stock traded 22,503,872 shares in the regular trading hours and 266,761 shares in afterhours. The average daily volume of the stock is only 581,135. Only 39.97 million shares are outstanding and 18.07% are held by insiders. The point is that more than half of the outstanding shares turned over.
Worth noting is the action in the stock of Real Goods Solar RSOL. The stock has jumped 225% in two days as shown on the chart. Again it is worth noting that Monday, the stock traded 34,672,418 shares; the company has a float of only 8.16 million. The point is about 400% of the float turned over in one day…Read more at MarketWatch
FREE: SUBSCRIBE TO 'GENERATE WEALTH' NEWSLETTER