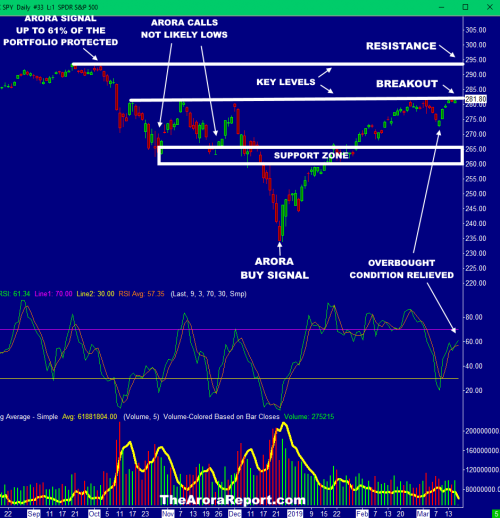 The U.S. stock market is at an inflection point. The key question for investors is, "What is next?"
Some traditional TA (technical analysis) believers see a breakout happening.
Let us explore with the help of a chart — if you believe in traditional technical analysis. From my view, traditional technical analysis no longer works as well as it used to; please click here to see the reasons.
Chart
Please click here for an annotated chart of S&P 500 ETF SPY.  Somewhat different conclusions are to be drawn from charts of the Dow Jones Industrial Average DJIA,  Nasdaq 100 ETF QQQ and small-cap ETF IWM. Please note the following:
• The chart shows two key levels.
• By some measures, there is a breakout above the lower key level.
• In our analysis at The Arora Report, the breakout is suspect at this time because it is not decisive and it happened on quadruple witching, when a range of options and futures expire.
• The chart shows five (depending upon how you count) previous attempts to break through this level have failed.
• The chart shows The Arora Report "buy" signal on Christmas Eve at the low of the market.
• The chart shows that The Arora Report correctly identified prior lows as "not likely lows."
• RSI (relative strength index) shows that the overbought condition has been relieved. This augurs well for a breakout.
• If the breakout becomes decisive, expect the market to move to the higher key level marked "resistance."
• If the breakout fails, expect the market to move to the support zone shown on the chart….Please read MarketWatch.
A knowledgeable investor would have turned $100,000 into over $1,000,000 with the help from The Arora Report. NOW YOU TOO CAN ALSO SPECTACULARLY SUCCEED AT MEETING YOUR GOALS WITH THE HELP OF THE ARORA REPORT. You are receiving less than 2% of the content from our paid services. …TO RECEIVE REMAINING 98% INCLUDING MANY ATTRACTIVE INVESTMENT OPPORTUNITIES, TAKE A FREE TRIAL TO PAID SERVICES.
Please click here to take advantage of a FREE  30 day trial.
Check out our enviable performance in both bull and bear markets.
FREE: SUBSCRIBE TO 'GENERATE WEALTH' NEWSLETTER