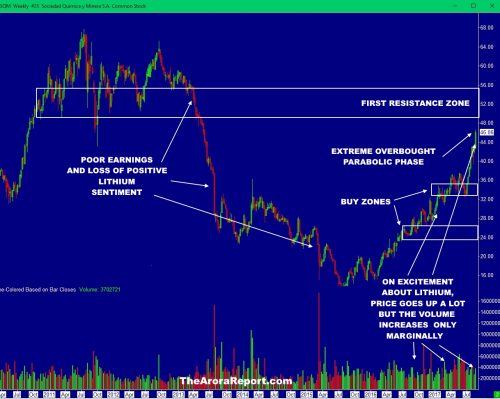 Some fans of Tesla Inc. think the stock will triple. Some bears say it will fall by two-thirds. For bulls, there is a new positive news cycle about to start on Tesla.
Next month Tesla is likely to introduce a long-haul electric truck with a range of 200 to 300 miles on one charge. That will open up a new growth market for Tesla TSLA.  Shares of traditional truck and engine makers such as Cummins CMI,  Navistar NAV,  and Paccar PCAR,  might get hit.
However, new opportunities may open up for stocks of the future other than Tesla. Those should be on your radar.
Lately I have been getting questions from investors who want to participate in the growth of electric vehicles but cannot stomach the valuations of Tesla. There is an alternative. To understand it, let's start with a chart.
The chart
Please click here for the annotated chart of Sociedad Química y Minera de Chile SQM,  Electric vehicles run on batteries, which use a large amount of lithium. SQM is a Chile-based producer of lithium.
An alternate to buying Tesla is to buy lithium stocks such as SQM, FMC FMC  and Albemarle ALB.
From a valuation perspective, buying those stocks is not as difficult as buying Tesla but it requires sophistication. As an example, the chart shows that SQM stock has been volatile over the years. The chart shows the period during which the stock of SQM lost about 80% of its value on poor earnings and loss of positive lithium sentiment. Lately the stock has been running up…Read more at MarketWatch
You are receiving less than 2% of the content from our paid services …TO RECEIVE REMAINING 98%, TAKE A FREE TRIAL TO PAID SERVICES.
Please click here to take advantage of a FREE  30 day trial.
Check out our enviable performance in both bull and bear markets.
FREE: SUBSCRIBE TO 'GENERATE WEALTH' NEWSLETTER